Maes case study – aerial platforms without outriggers !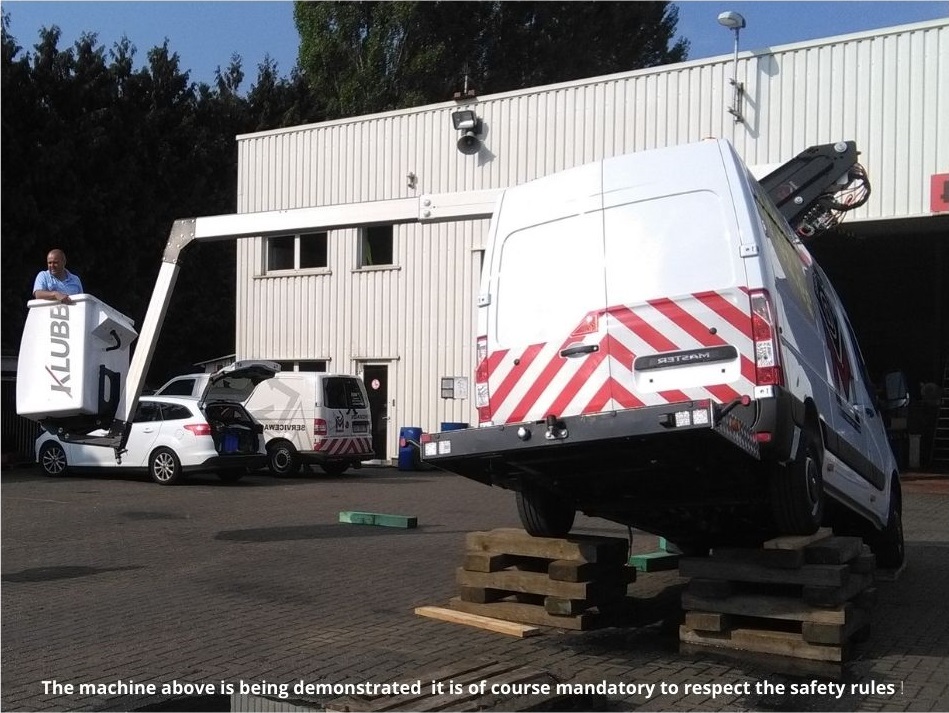 Aerial platforms without outriggers, an undeniable time saving which significantly increases profitability!
On the Belgian market as everywhere in the world aerial platforms are usually bought with outriggers. It is common to think that the use of stabilisation during work at hight is required. But this is not the case ! Our Belgian distributor has succeeded in convincing his customers that working without outriggers (using the 4 wheels as 4 stabilization contact points) allows to work more efficiently.
The Maes company, has 45 years of experience in work at height field. It is a group of several companies with numerous activities. From installing lighting at football fields over renting platforms from 10 till 103 meters to inspecting windmills with drones and repairing them afterwards. Maes is also the Klubb dealer for the north of Belgium. This family business is now managed by the second generation, Greet and Jan Maes and Geert Van Staeyen. As Klubb, for them a word is a word and they always search solutions to be able to serve the customers better. The customers appreciate this approach. This is the key of a successful sale!
As the Maes team says themselves, everyone bought platforms with outriggers but the time it takes to extract them is almost the time when the K32 is up and running. 95% of the work can be done with this model. Because the outreach is almost the same as a platform with outriggers.
This aerial lift mounted on van has a telescopic arm which reaches a working height of 12.50m @2,5m outreach (not on top of the vehicle as with an articulated fly JIB unit), and a maximum horizontal offset of 7.30m but without outriggers. New market opening helped Maes to sell machines without outriggers. In Belgium, the installation of 4G to 5G has begun, telecommunications companies must connect homes to fiber. It is the same for the lightning companies who need to switch from regular streetlights to LED. Switch 60 to 100 streetlights per day without taking out the outriggers on each stop it's a great amount of time (and money) saved!
To change mentalities, Maes demonstrated the most extreme situation the platform can handle, that setup convinced lots of their customers. To ensure the sale, they always show the limits of the machine and after that speak about fleet profitability.
The K32 lower price is a very interesting point, this model is almost equivalent to those more expensive with outriggers, it also save the weight of the complete outriggers system and the fly JIB which gives more payload on the vehicle and reduce the TCO (Total Cost of Ownership) of the fleet.
Most of the customers make the decision to have a fleet with multiple K32 aerial platforms and a few bigger machines as the K42P. This vehicle with outriggers has a JIB and its basket allows the lifting of two operators. It is therefore ideal for more complicated work as all pruning work, sign installation or even cleaning of surfaces at height. It gives them a cheaper fleet with more return on investment! Customers returns are excellent, vehicles are conform for tasks advised by our sales staff. One of the main competitive advantage of the Maes company is and will remain the services they offer to their customers. Once they used this service, they don't want anything else.
Building on this success, Maes wants now to innovate and test new products like the XTENSO range, KT18PZ, KL32SL (short version with original towing hook 2.5 ton), they search different products to win sales on niche markets. The whole Klubb team wishes them all the best and will always be ready to help them.
To sum up, platform without stabilizers :
Same work capability with very close performances of the machines with stabilisers
Reduce CAPEX and OPEX of the fleet
Increase the productivity of the operator
Better payload
More reliable
Additional stability on a one-man basket
More grip on the ground with 4 tires than stabilizers steel plates
Less sensors