Aerial work platforms without outriggers, the Norwegian success story!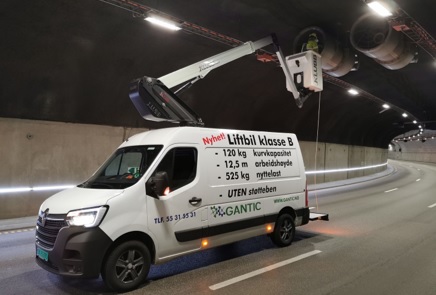 Our Norwegian dealers, Gantic, is changing the way people work at height across the country thanks to his involvement and his spotlight on Klubb's leading product, the KL32 on a van without outriggers.
Gantic has supplied Klubb aerial work platforms for several years now, and sells various products dedicated to working at heights, as well as protective equipment that is essential for this sector of activity. In addition, they are accredited for the certification/inspection of all categories of products related to elevation. For more than 30 years, the company has been one of Norway's largest distributors of access platforms and has placed its customers at the centre of its strategy for a successful and long-lasting collaboration. It was therefore natural that Tommy Jorgensen, CEO, and Rodney Miller, Sales Manager, decided to distribute Klubb KL32 model in their country, which offers many benefits to their customers:
- No stabilisers à speed of operation
- No fly JIB needs à you save money
- Large storage space, (no follow-up van needs) à you save money
- Equipment under lock, protect working tools
- Advertising space available on the vehicle bodywork à reduces marketing costs
- Impressive product features à working height, offset, working on slopes... a wide scope of use
Until very recently, the typical aerial work platform in Norway was expected to have outriggers, a fly JIB and a minimum basket weight of 200kg. The Gantic team has done a lot of work to gradually overcome the preconceptions of users. Their focused and structured work has not only raised awareness of the KL32 on a van, but has also positioned it as an effective solution for many business, such as construction, electricity and maintenance. Even better, they have managed to find new business applications, such as working in enclosed areas, for example in road tunnels.
For Rodney, the key to success is : « Roadshows have played a huge part in our marketing of the KL32, but most of all we have changed the way we approach our customers. We spend far more time clarifying the needs of our customers. What they want compared to what they need are two highly different things.» So the Norwegian sales guys were easily able, through their well prepared argument and the numerous demos carried out, to sweep away the recurrent comment when talking about a boom lift on a van: « Won't it tip over? » The KL32 has proven its stability during its tests with the customers. Rodney tells us an anecdote: « We even had one customer doing their absolute best to have the KL32 tip over. They sent a worker (he was 187 kg!) to test the KL32 at full outreach. But the van stood it's ground, and the customer was quite impressed with stability, speed of boom and versatility of the KL32. »
Gantic still has some way to go, but after travelling throughout the eastern part of the country, the feedback is very positive and orders have already been signed.
It will take time, but the Klubb van-mounted KL32 is on its way to becoming an important player in the sales of aerial work platforms in Norway.