Recap: KLUBB were represented in more than 25 trade shows in 2019!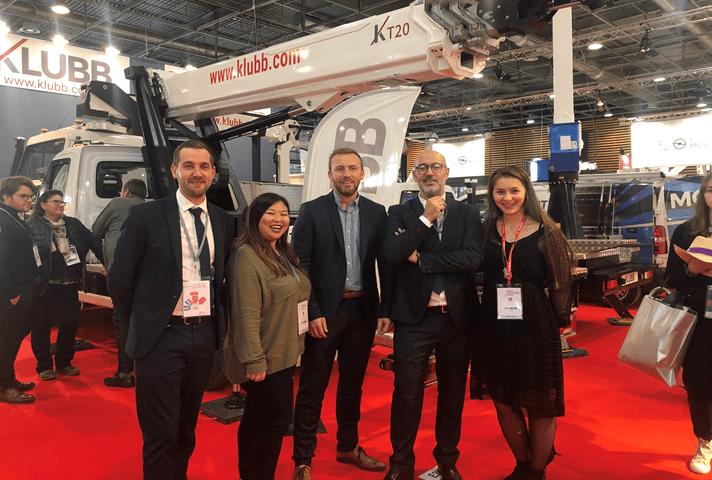 For the aerial access platforms manufacturer KLUBB, this year was full of events! Not only KLUBB itself, but also in collaboration with our distributors all over the world, we exhibited vehicle mount platforms at 25 trade shows.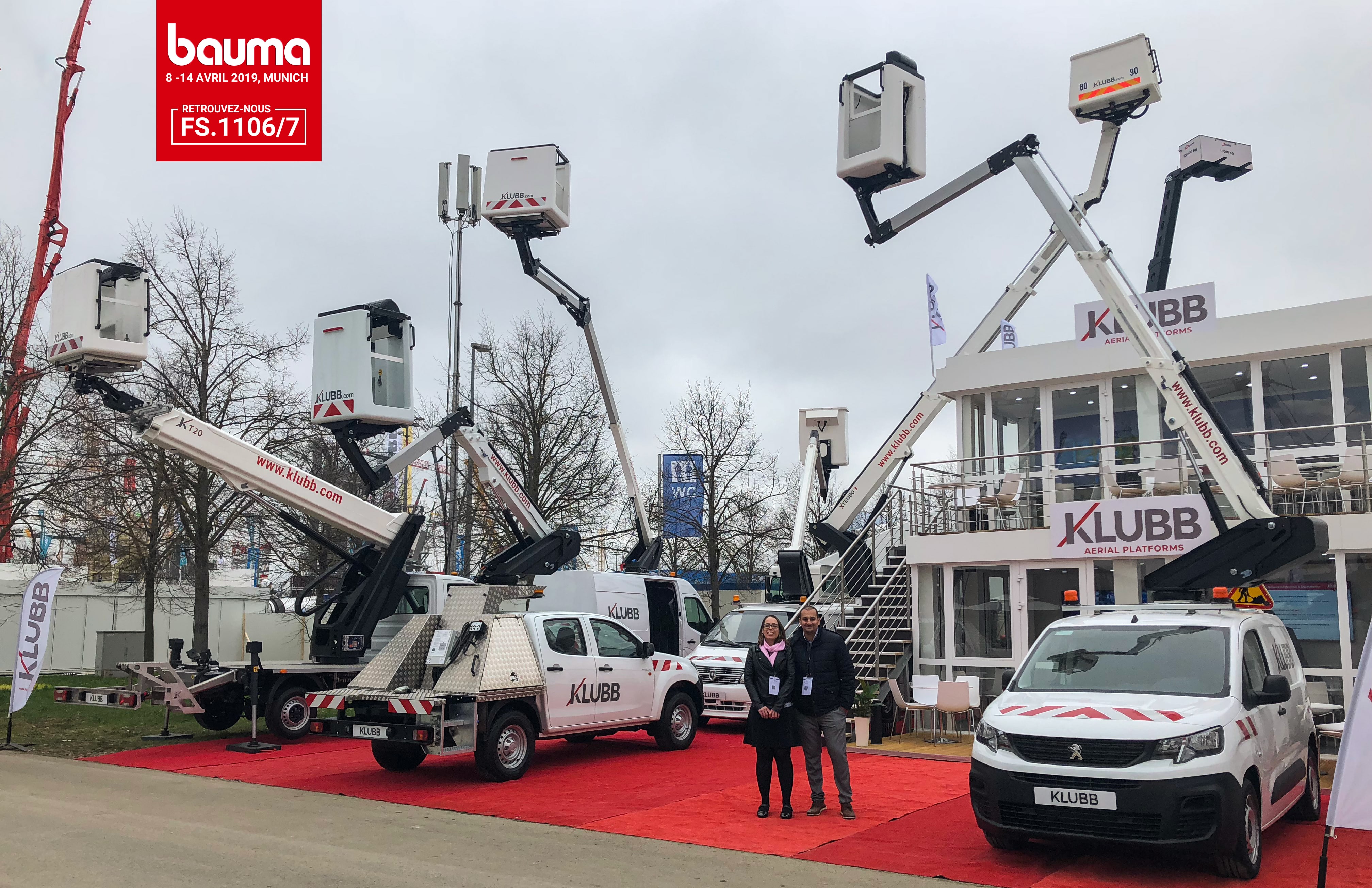 Bauma set the start signal for this year, from the 8th to 14th of April. At the trade show in Munich, the aerial access platforms manufacturer launched the boom lift KT20 mounted on chassis. The KT20 stands out for its exceptional features: A working height of 20.60m and an offset of 12.50m. The KT20 aerial platform mounted on chassis has been designed to fit with the needs of the rental companies: it's a very robust machine, with great performance and low TCO.
At JDL in September this year, you had the possibility to discover one of our bestsellers: K20 on Nissan e-NV200. A platform on a 100% electric mini-van that impresses with its compact size. Moreover, it demonstrates an exceptional performance: 10m working height and 5m offset. In addition to this innovative aerial mount work platform, we exhibited chassis-mounted lifts, like the Iveco KLUBB KT20
Bear in mind that as a certified partner of Renault for some years now, KLUBB has been selected to launch aerial platforms with Renault Brilliance for the Chinese market. Accordingly, KLUBB developed a lift mounted on van: the K21B mounted on Jinbey Granse 16! The aerial work access platform was very nice received by the customers of APEX ASIA (23rd to 26th October) in Shanghai!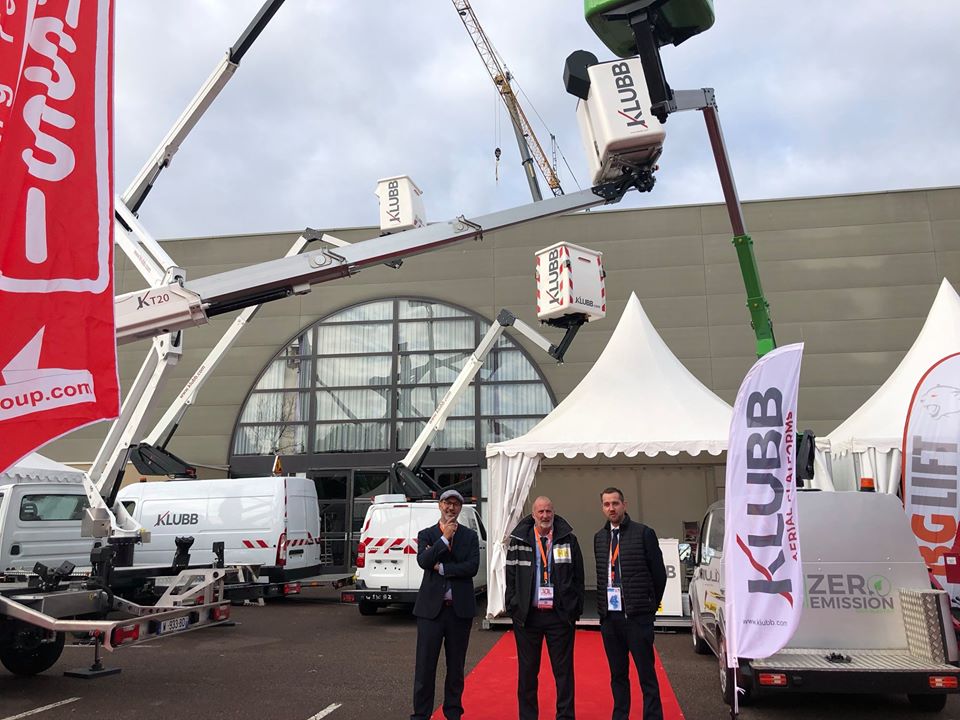 JDL Expo in September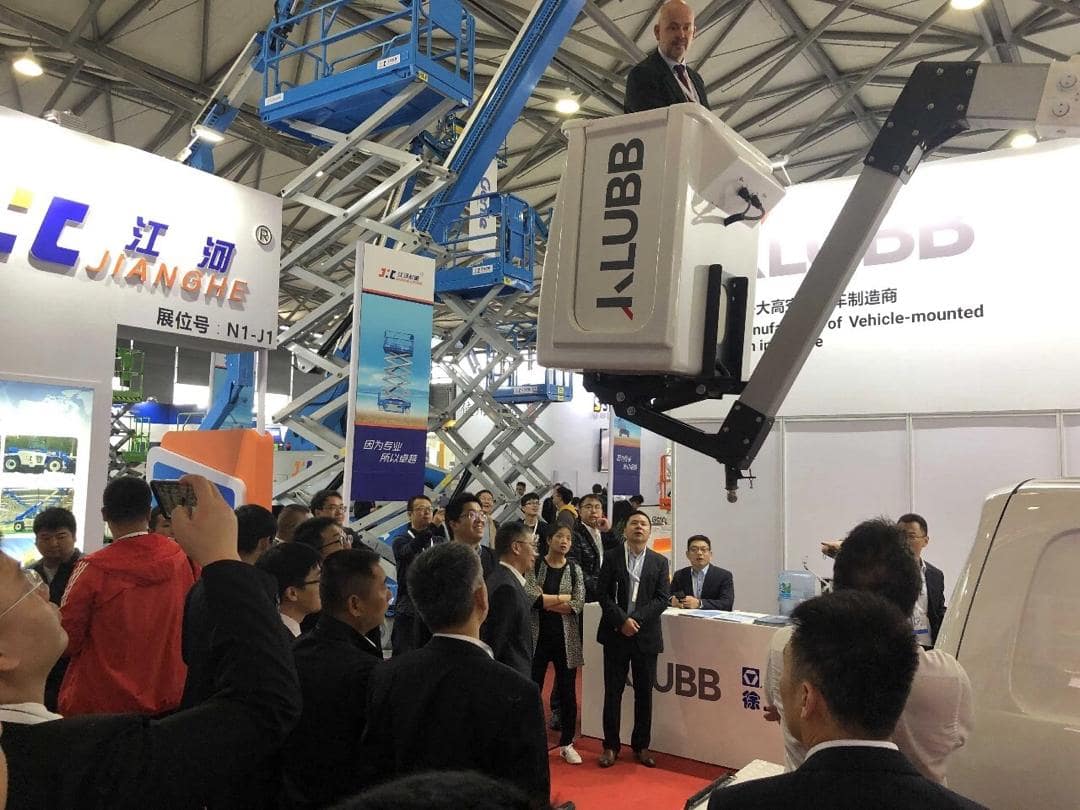 Apex Asia in October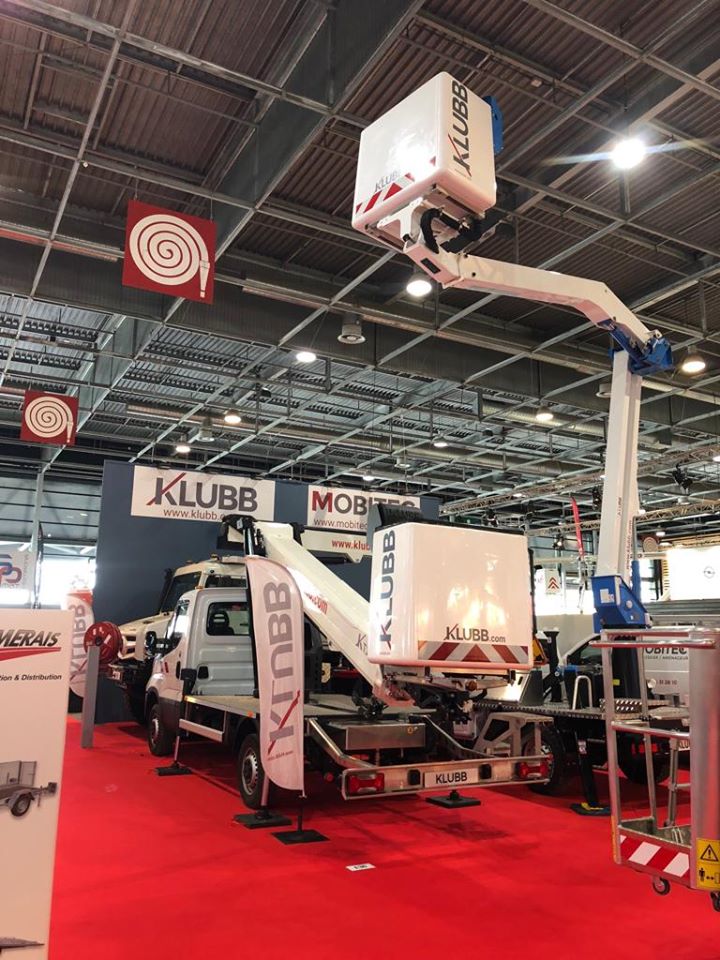 Batimat in November
At the latest show, BATIMAT in Villepinte, we exhibited three vehicle mount platforms: Xtenso 3 mounted on a Unimog, a KAT42 on a D-Max and this year's newcomer KT20 on an Iveco truck.
However, as already mentioned also our distributors were very active this year! Thanks to all our partners for their excellent work!
For example, our partner Maes Hoogwerkers and Mondia participated at Matexpo in Belgium. CharterLift and More represented KLUBB at the Innovationstage in Fulda, Germany. They exhibited a K38P van mount and the environmentally friendly aerial work platform K20 on Nissan e-NV200, too. Furthermore, they named the vehicle "Flüstertüte" which means something like loud-hailer. The nickname allude to the noiseless driving of the 100% electrical van mounted platform!
In the Netherlands at the "Green Techniek Holland", KTS presented another electrical boom lift: K20 on Goupil G4. This all-electric model is distinguished by its ability to work in very small spaces thanks to a vehicle width of 1.5m. Its autonomy on the road is 70km. Therewith, it is particularly suitable for works in restricted aerias, like city parks, zoos and plants!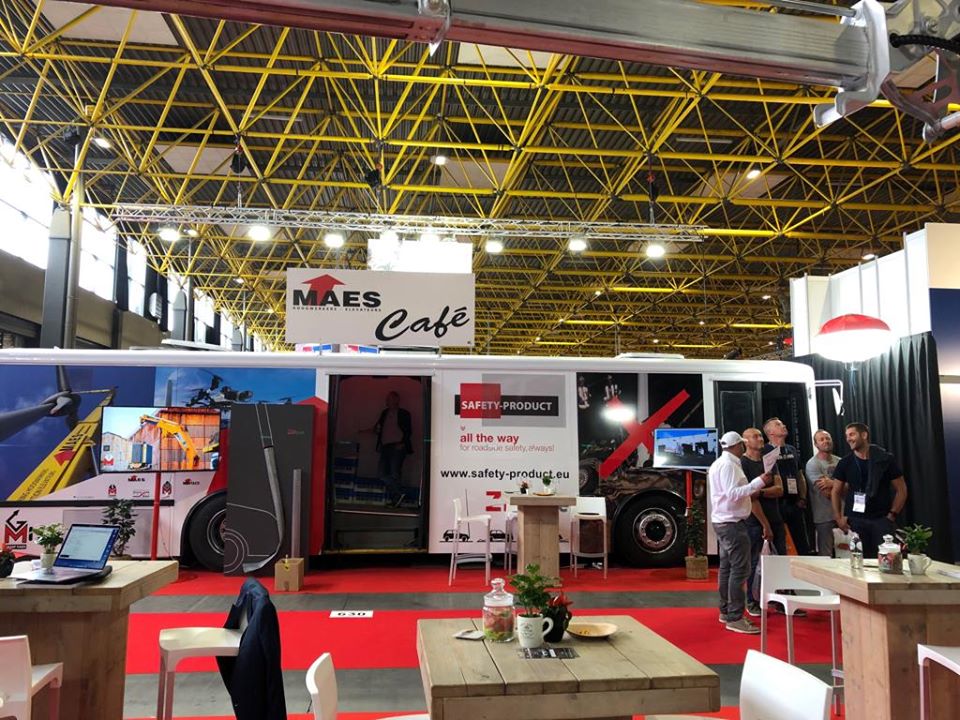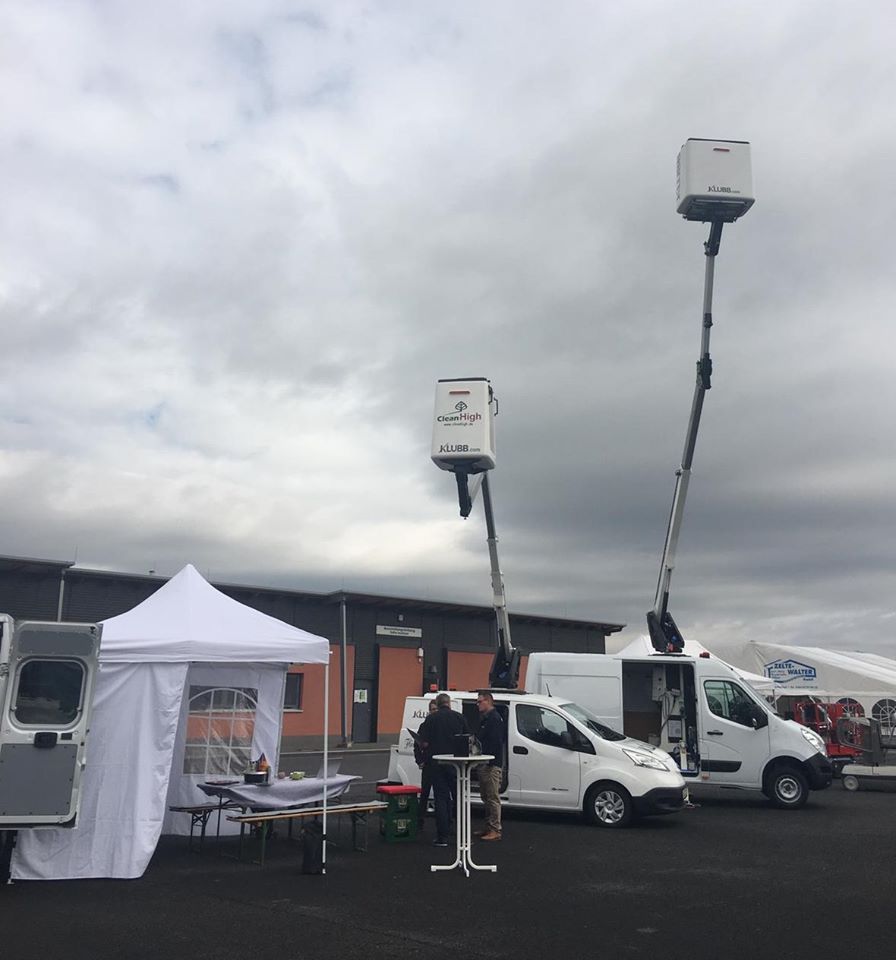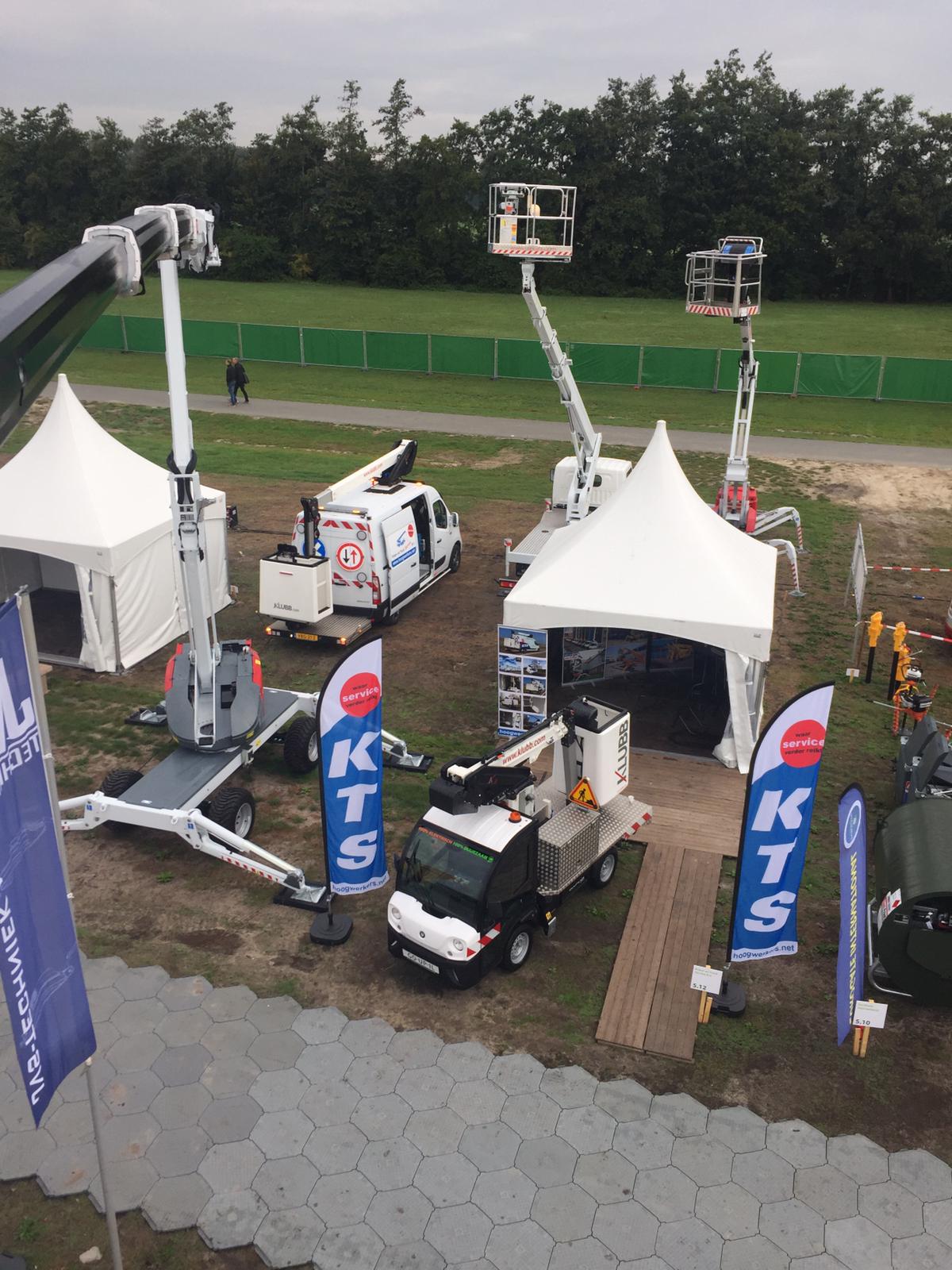 In summary, we thank you all for coming to see us during these shows.
Our innovative products have been very well received worldwide and we will produce more than 1800 platforms this year.
Also, you still have the chance to visit our distributor Safe Technology in Russia at the "International Electrical Networks" from 3rd to 6th December.
Stay tuned as we are already planning and preparing the events for 2020!