Interview with Sébastien and Ibrahim, Assembly Team Managers at Klubb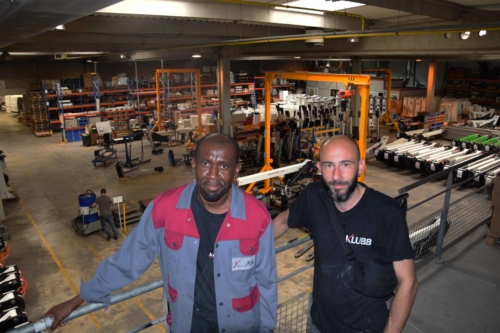 Ibrahim and Sébastien are Production Team Leaders at Klubb and they are building, with their teams, more than 100 work access platforms per month. Let's meet with these smart and talented guys.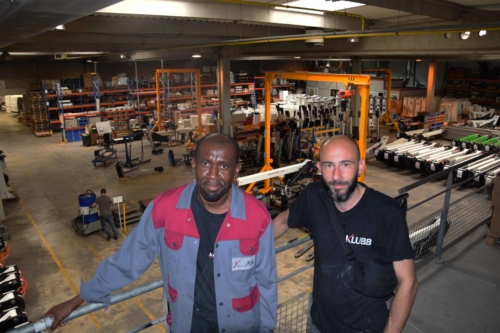 Sébastien: After my storage management certificate, I was hired at Bosh as an orders picker. Two years later, I had the opportunity to work in a company that designed and manufactured bathroom furniture as a carpenter.
I then moved to a manufacturing station with digital machines where I was responsible for manufacturing prototypes for product launches.
I had to find assembly solutions and set up the machines to launch the mass production of these new pieces of furniture. In 2015, the company went bankrupt and the site was taken over by Klubb.
I therefore applied as a production operator and was recruited to the first Klubb work access platforms assembly team.
Ibrahim: I have always worked in the automotive industry. When I arrived in France in 2003, I was recruited by Citroën as a line operator for 5 years and then worked as a quality controller.
Following the closure of the site, I did several technical training courses and then I was hired at Klubb in 2015, to be part of, as Sébastien, the first Klubb work access platforms manufacturing team.
What is your function now?
Ibrahim: Today, we are both team leaders. Sébastien: We are responsible for 8 people each. I work in the Croissy plant and my team is mainly involved in the construction of upper structures for trucks. We are also working on the production of prototypes of Access Platforms. As for me, I work on the Ferrières en Brie site. My team specializes in lifts to be mounted on vans with a large volume of production.
What do you like the most?
Sébastien: I like the diversity of my work, the new challenges. It is very interesting to have to think about new solutions when we encounter difficulties when assembling new products or when we have after-sales returns. I appreciate our exchanges with the design office and maintenance teams to constantly improve our work, improve quality and productivity. Ibrahim: We work in an excellent atmosphere, there is a real team spirit that allows us to go beyond when we have to solve problems, improve the pace and quality. This cohesion is very important to achieve our goals.
What is the most difficult?
Sébastien: recruit new team members for the development of the activity. Recruitment takes time and it is often difficult to find the right people. Ibrahim: we are also facing space problems because the activity is growing very fast and we have to find solutions to produce more and more in an identical space, which often requires us to review the storage areas or the positioning of the working stations.
What are you most proud of?
Ibrahim: I am proud to have won the trust of my hierarchy and to constantly have new projects. I am also very proud of the machines I produce. I saw them born and I participated in their evolution, it is a real success for me. Sébastien: It's true that every time I see a Klubb platform on vehicle in the street, I feel proud of my work. I feel like I'm doing something useful and I'm happy to be part of this adventure from the beginning.