Hybrid or electric vehicle mount platforms: the choice is yours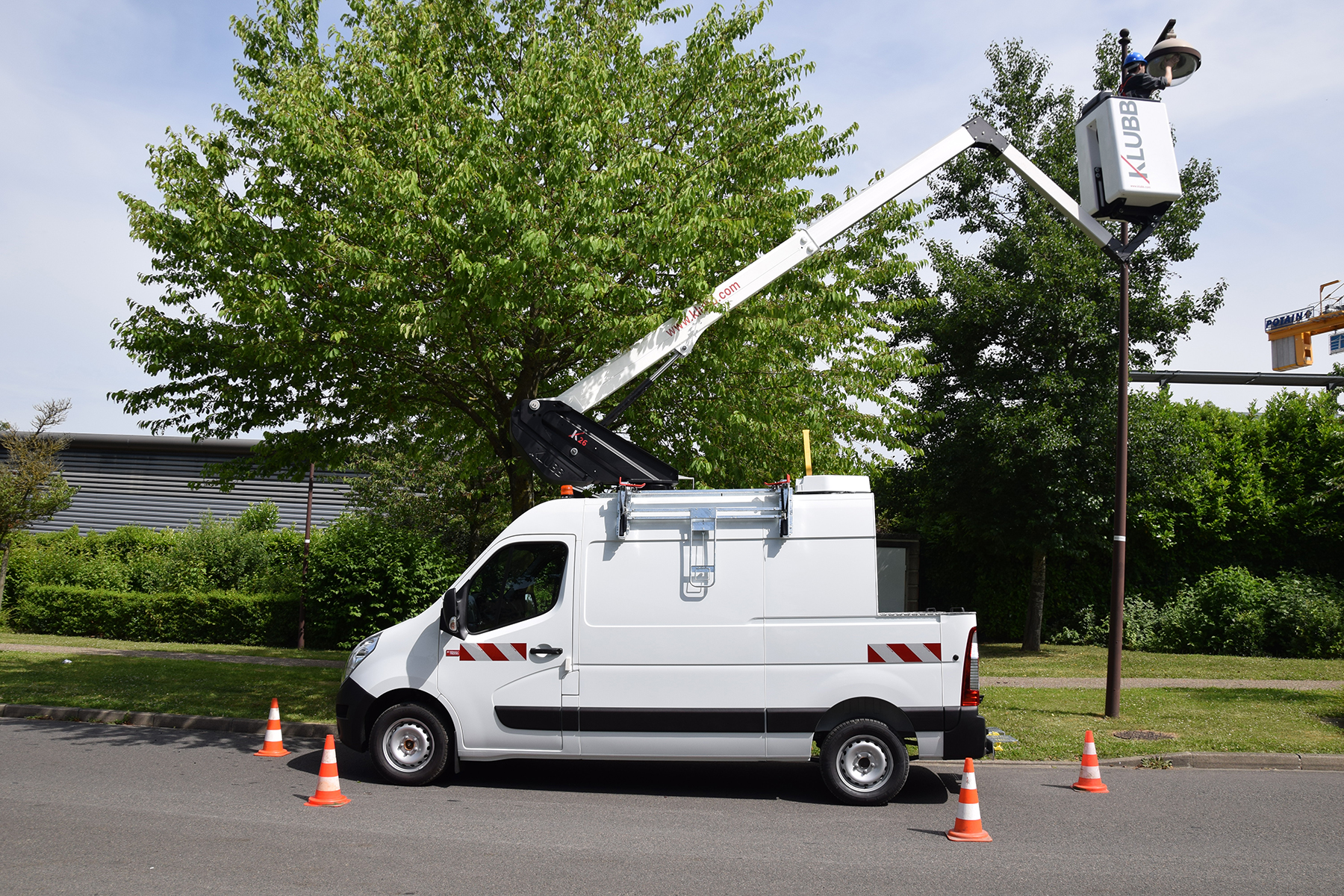 We have a strong expertise in this field. As a European industrialist we are very attentive to clean energies. For the record, our Group has obtained the PM UP label, which rewards companies with a proactive approach in this area in France.
All our vehicle mounted platforms can be operated with the vehicle engine turned off using our Green Pack technology, which saves fuel and protects the environment. We developed this technology in 2004. Since then, we regularly equipped our products with the Green pack option for our clients. They can choose between a full electric version of a hybrid version (electricity and diesel).
We launched a new fully electric van-mounted platform on a cutaway Nissan eNV200 in November 2017. Ecological and very compact, the K20 on cutaway eNV200 allows to operate without noise and without pollutant emission, it is therefore particularly suitable for all work at height in urban areas: maintenance of public lighting or video-surveillance system installation, maintenance of green spaces … This model is ideal for all companies and utilities engaged in an eco-responsible approach but who do not wish to compromise on technical performance. Indeed, this electric platform on van will seduce by its working height of 10m and its outreach of 5m, exceptional for its size.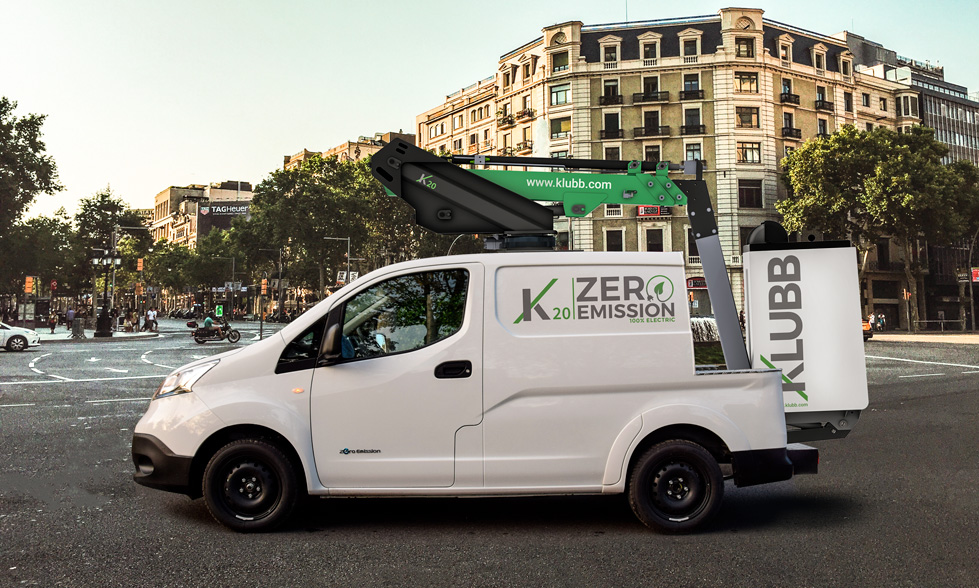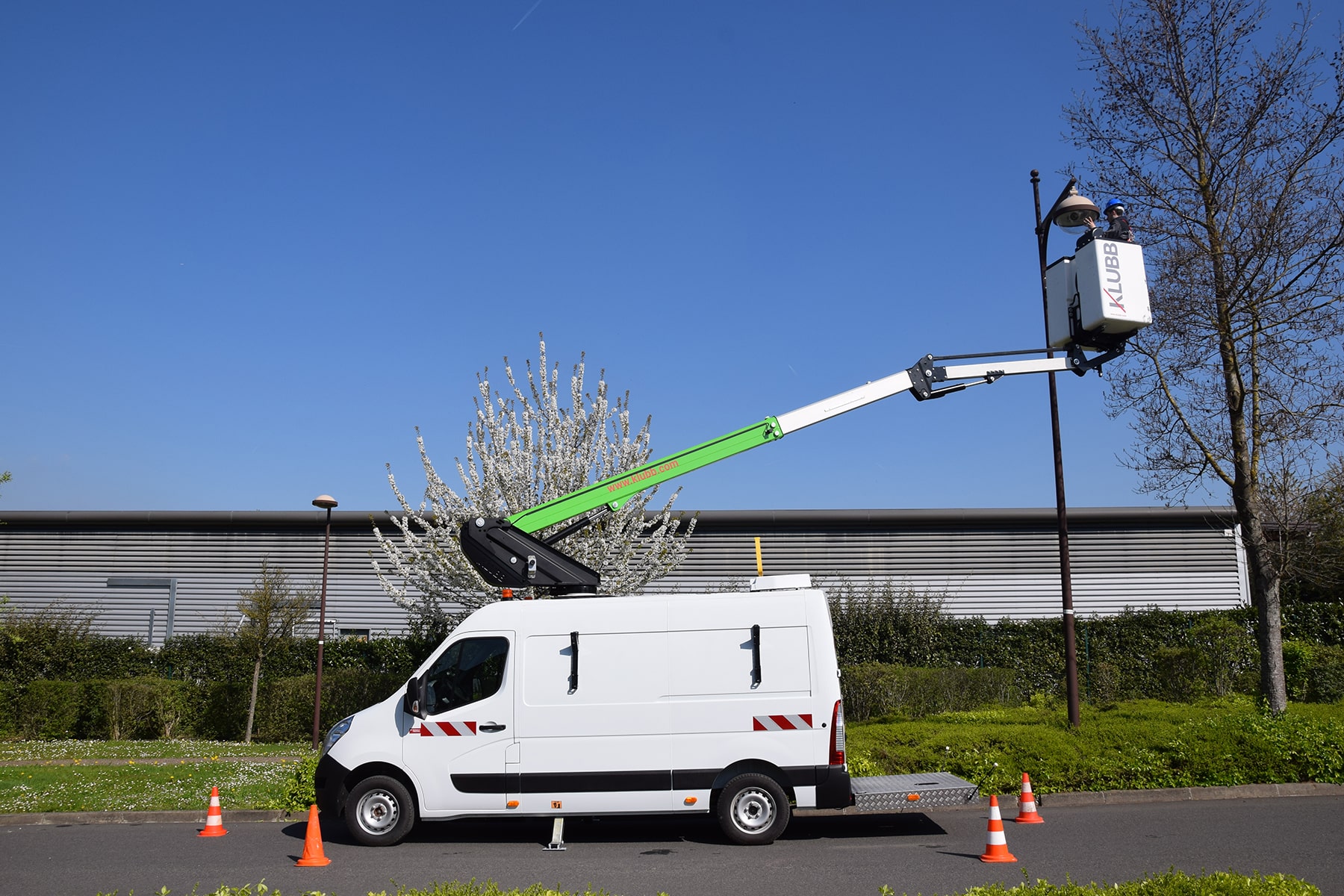 Most of the time, hybrid or electric vehicle mount platforms are used in city centre applications. Consequently, we are mostly talking about small size vehicles able to easily fit in an urban environment. There's an ever-increasing range of new electric vehicles that will come soon on the market. As we are official partner for the main car manufacturers like Nissan, Renault, Mercedes Benz or PSA… we work closely with them in order to design the best electric platforms for their upcoming electric models.
You want to sell these innovative products in your country? We are building an extensive network of KLUBB dealers who all offer outstanding levels of service.
If you are interested in becoming a KLUBB dealer, we want to hear from you! Contact us
You are looking to buy a new KLUBB vehicle mount platforms? Our dealers can help: contact us