Focus on our bestselling vehicle mounted lift K26 on pick-up and chassis in Israel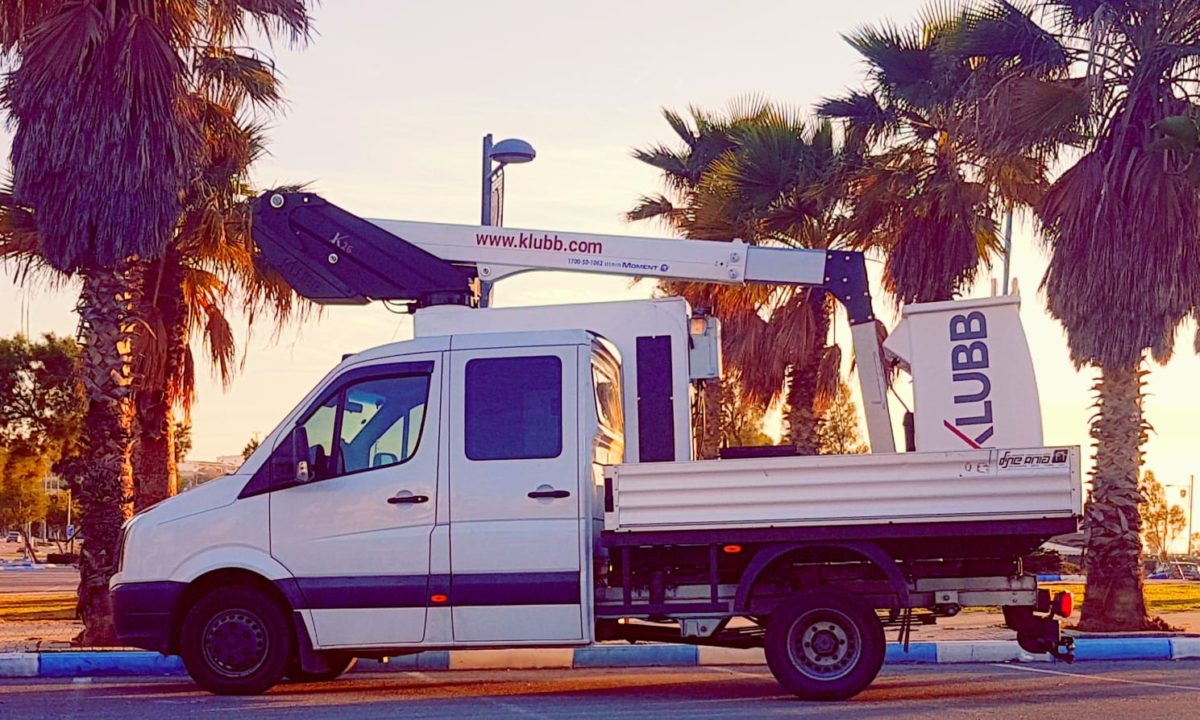 In the first quarter of the year our Israeli partner Moment Logistic ordered two of the lifts model K26. One of them is built on a pick-up of the brand Ford, the other one is installed on the VW Crafter, a chassis.
Therefore, Oved Ovadia, CEO of Moment Logistic Ltd., gave us an exclusive insight why they've chosen to choose the vehicle mounted lift K26 and sent us beautiful pictures of their assembling work. Even if Israel is confined, as most of the countries, let's enjoy the view of these nice machines under the sun!

One aerial platform – two vehicle mounted lift conversions
"We were considering together with the Export team of KLUBB which model would fit on our client's vehicle the best. In the end we decided to propose to build a K26 on the Ford pick-up.", mentioned Oved.
The vehicle mounted lift model K26 is one of our all-time bestselling products.
Mounted on pick-up, the aerial access platform reaches heights up to 11.50 m. Moreover, even without outriggers, it shows an outreach of 6.80 m and a platform capacity of 120 kg. Therewith, users can do their work without considering if the vehicle can carry them and their equipment.
Also, the vehicle is quite flexible as it provides not only a great outreach and working height but also 360° rotation of the arm.
"As the costumer is accomplishing works in the city, he demanded for specification such as an outstanding flexibility. They also needed the possibility of a direct start when arriving to site.", explained the representative of Moment Logistic Ltd.
The latter is fulfilled firstly, as the vehicle is a compact one, it fits in any parking space. Secondly, the user doesn't need to install the outriggers when arriving. Furthermore, Moment Logistics' client benefits from not calculating extra space for any stabilators, another point which highlights the compacity of the vehicle!
Oved Ovidia: "Due to all these advantages, my company Moment Logistic and KLUBB provided a K26 to mount on the Ford pick-up!"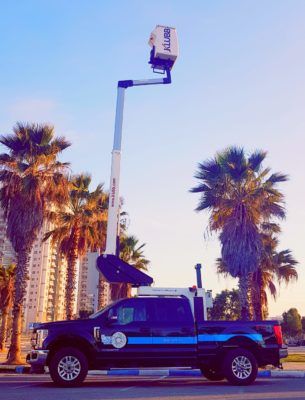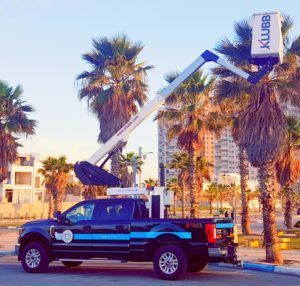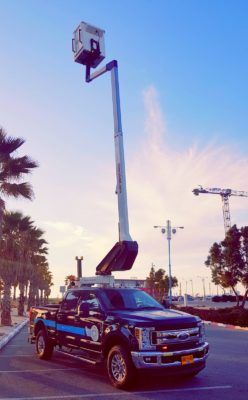 The vehicle mounted lift K26 on chassis

The second aerial platform construction with the model K26 was mounted on a Chassis, to be more precise: A 5T Chassis VW Crafter. Our partner Moment Logistic highlights that 5T vehicles are very popular in Israel due to you have to pay less expensive taxes for them. However, Oved also thinks that vehicle mounted lifts on 3T Chassis, like for example on Isuzu DMAX, will get more attention in the future.
Our bestseller K26 on VW Crafter provides similar specifications as the same model mounted on pick-up. The working height is 11.80 m and the outreach is 6.80 m. Providing the same flexibility due to the rotation of 360°, the K26 on Chassis is more robust than its equivalent on pick-up. It is a perfect addition for your work in more harsh regions. The platform can carry weights up to 120 kg, but of course we also supply them with a higher possible amount of 200 kg safe working load in the basket.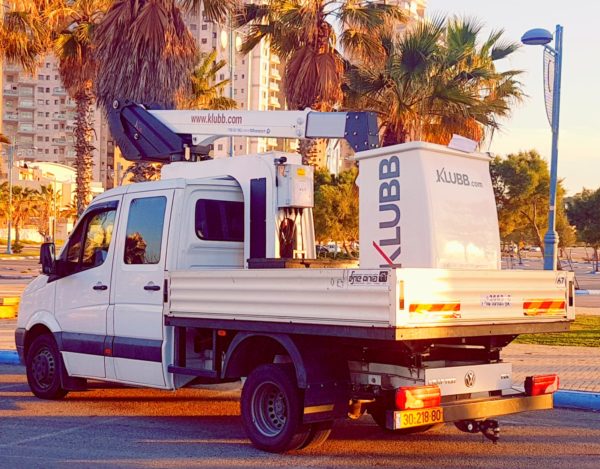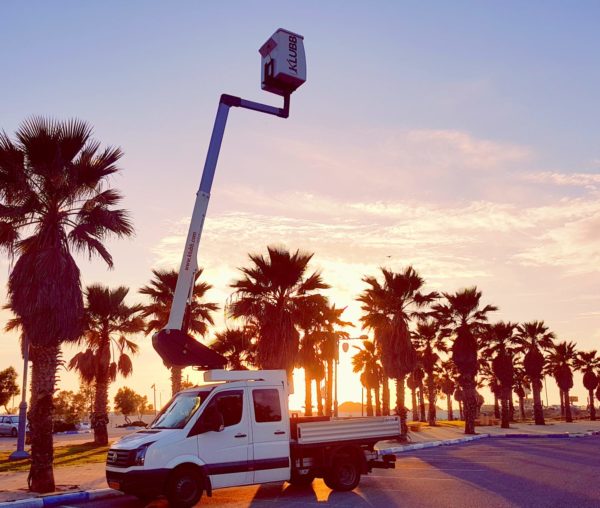 If you are also interested in our bestselling model K26, just contact us! When you are based out of France, we will connect you with one of our partners in your region.

Due to our great connected distributor network, we are able to deliver and to provide a worldwide service. Furthermore, our partners are specialists on the market of aerial work platform. As a result, they can perfectly help you out finding the best fitting product out of our range!
So far, nevertheless, the current situation is challenging and should be taken seriously, we continue our production. Of course, we ensure to fulfill all safety measures! Our team and also our partners are at your disposal for any questions and for setting up a meeting for a demonstration after the lockdown!
So, thank you Moment Logistic Ltd. for your work! And also, we are thankful for giving an impression of your daily task, Oved!

However, if you also consider to represent the KLUBB Group in your country, don't hesitate to get in contact! We will be glad to get to know you.