Focus on Klubb 3.5t truck mounted range: Versatility and Robustness for working at height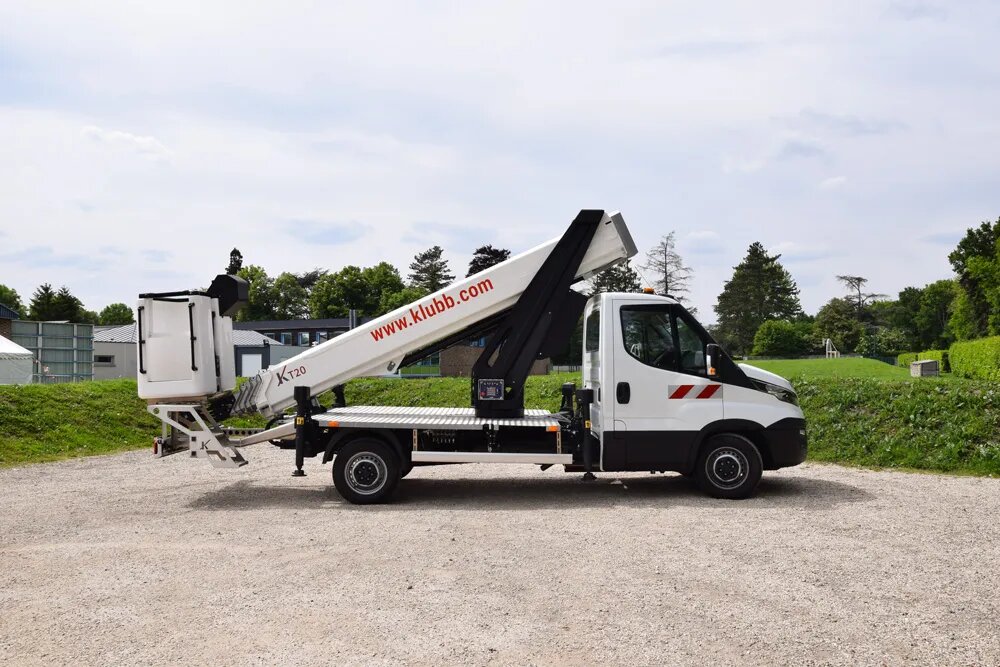 Klubb released at Bauma 2019 a new range of truck mount lifts: 17 – 18 & 20 m telescopic. These products are mostly designed for the rental market and will offer customers high performance and cost-efficient aerial platforms.
Three models of 3.5t truck mount lifts are currently available on :
• The first, KT 17, is a 16.80m telescopic platform with lateral outreach of 11.50m
• The KT 18 reaches a working height of 17.60m m with lateral outreach of 11.50m
• Finally, the KT20 features a working height of 20.60m and lateral outreach of 12.50m
Why did we launch these products?

In 2016, the Group started a new manufacturing activity with a turnover of €40m and over 150 employees. In 2019, we reached a turnover of over 100M€ and the number of employees has more than doubled. KLUBB is now the n°1 manufacturer of aerial lifts on vehicle mounts in Europe with more than 1,800 lifts produced in 2019 for French and international markets. KLUBB is present in 22 countries, in particular through a network of professional distributors who sell and maintain its lifting solutions.
So far, we were able to provide lifts on light trucks up to 15m and also lifts on heavy trucks up to 26m. Nevertheless, rental companies in most of the countries are asking for light truck mounts from 16 to 22m. If we wanted to continue growing our market shares with these companies, we needed to develop new products on trucks. We decided to launch these products based on our customers' feedback. KLUBB's new range of aerial platforms on chassis are designed for the users right down to the smallest technical detail. We are able to offer customers high performance, cost-efficient aerial platforms that deliver new advances in performance, safety and total cost of ownership.
Outstanding features of these machines

Their fully aluminum structure ensures excellent payload with the chains and extension cylinders protected in the arm for improved durability.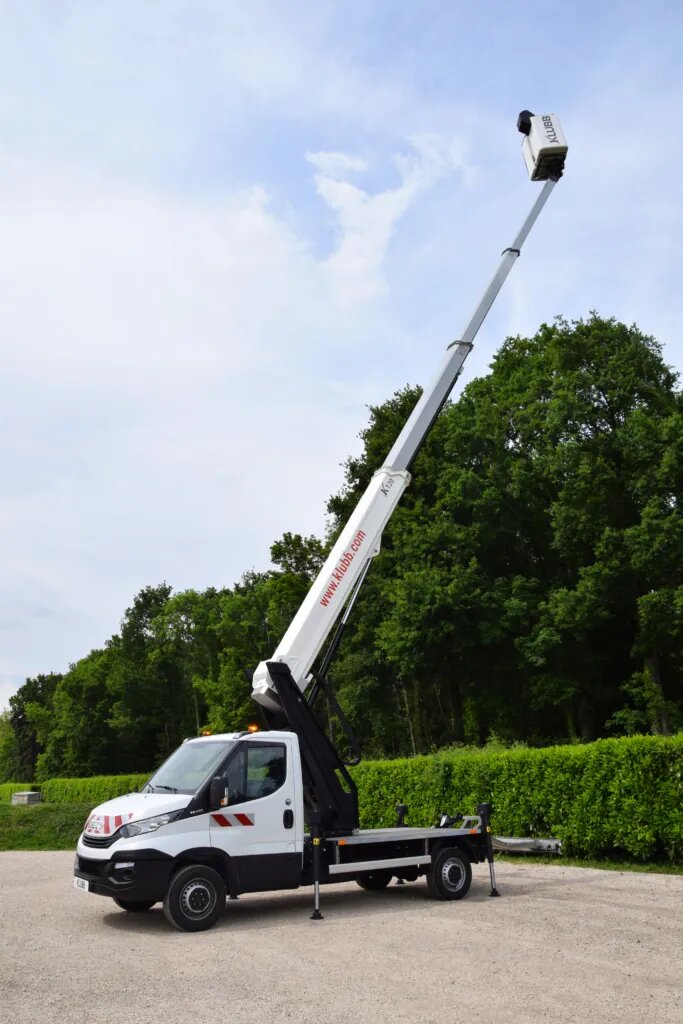 They are designed to have the best outreach of the market with 300kg in the basket.
The extendable outriggers at the front of the vehicle enable the operator to adapt the footprint on the roadway.
The proportional controls for all function allow for multiple operations simultaneously, whilst controlling the speed of each movement independently. This feature saves time and provides ease of use which is highly appreciated by the operators
The new Klubb chassis range has been developed to achieve multipurpose work at height. They are robust, easy to operate and easy to maintain in order to cope with all kind of renting possibilities.
Don't miss the opportunity to discover these outstanding features during the APEX 2020 on our stand # 1280.
Green technologies at stake
A lot of companies and councils are now involved in an eco-responsible approach. Green technologies are taking more and more importance in the market. We have been working on green solutions since 2004. As a European industrialist we are very attentive to clean energies. For the record, our Group has obtained the PM UP label, which rewards companies with a proactive approach in this area in France.
All our platforms can be operated with the vehicle engine turned off using KLUBB's Green Pack technology, which saves fuel and protects the environment.
We developed recently a new version of the all-electric K20 mounted on a Goupil G4 truck, that is 100% electric. It is a very powerful solution for working in pedestrian or residential areas.
This lift fitted on small electric vehicles is distinguished by its ability to work on sidewalks with a vehicle width of 1.5m and autonomy of 70km on the road.
With a working height of 10m and an outreach of 4m, this electric lift is ideal for all cleaning companies, public lighting or maintenance of green spaces and of course for local authorities involved in an eco-responsible approach
The K20 on a Goupil is a great addition to the range of Klubb electric platforms which already includes the K20 on a Nissan eNV200 and the K26 on a Master ZE. We are the only manufacturer that has this range of products where our customers could choose from.
There's an ever-increasing range of new electric vehicles that will come soon on the market. As we are official bodybuilder partner for the main car manufacturers like Renault, Mercedes Benz or PSA… we work closely with them in order to design the best electric platforms for their upcoming electric models.