Aerial lift experience in Construction Review Magazine
Discover this great article about Aerial lifts in the latest issue of Construction Review Magazine, which is Africa's leading construction journal.

"Aerial lifts are a useful and efficient machine when it comes to carrying out various works. These machines are an important component for work that takes place at elevated heights. Aerial lifts are designed to elevate workers to a height in a construction site. They transport workers and machines going to the elevated working sites."
"A potential buyer must consider a few aspects before making that decision."[…]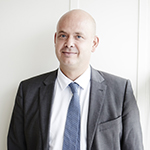 "Don't limit your option. It is always good to hear from opinion choice of suppliers, but you will always have the last say to it. Decide as well if you are going to buy or rent an aerial lift and consider the advantages, whether you choose to buy or rent. Mr. Julien Bourrellis, the president of Klubb, a France based firm that specializes in aerial platforms mounted on vans and chassis advises that it is worthy to purchase one as opposed to renting as this will cut down on cost and ensure security and reliability.
Klubb produces easy to use platforms that are available in the international market. Klubb offers machines that are adaptable to harsh weather conditions, class-leading stability and work even in difficult terrains that characterizes most parts of Africa."