2020: the good in bad times

We invite you to come back to the significant events for the Group in this very special year which has shaken up the truck and van mounted platforms market.
Jan 2020 – Klubb has launched the first redesigned model from the EGI insulated truck and van mounted platform range in Russia
The 14 metre EGI-Klubb E14P is based on a standard Klubb van mounted platform, with the first unit installed on a 3.5 tonne Ford Transit van, offering up to 7.5 metres of outreach and a 200kg platform capacity.
The model is fully insulated to 46kV and complies with ANSI 92.2 standard cat. B and C allowing for it to be used for live line work carried out according to the ANSI recognised 'hot stick' (safe clearance).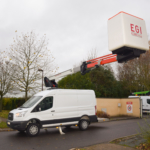 March 2020 – Business as usual – almost
"I would therefore like to thank our 360 technicians who keep on producing our machines and our 50 employees in telework. I am proud of them all.
I would also like to sincerely thank our 150 French suppliers who continue to supply us nevertheless they are opposed to the difficulties these days.
I would also like to thank all of our customers who trust us and congratulate those who continue to work." Julien Bourrellis, Klubb Group CEO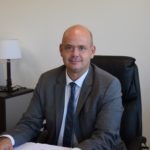 June 2020 – Release of the K32 on an Iveco Gaz chassis
This telescopic boom lift with Green Pack on a gas-powered chassis is an ecological option for all companies wishing to reduce the polluting emissions of their fleet.
With a working height of 12.50m and an offset of 7.30m, this lift is perfectly suited for the maintenance of green spaces in local communities or for multiple maintenance work in town.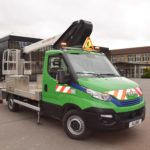 July 2020- Klubb 'Light' range
Klubb has announced the launch of a 'Light' range of van mounted platforms which will provide an additional 140kg of payload in the cargo bay of the vehicle.The weight saving has been achieved by the use of an improved design and the use of a special High Elastic Limit steel, which has resulted in a reduction of 140kg in the weight of the lift structure compared to its regular models, and according to the company the product is more rigid and should provide a longer fatigue free service life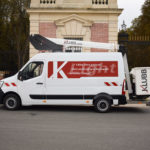 September 2020 – Klubb ministerial visit
France's minister for the economy and finance, Bruno Le Maire, has visited the Klubb vehicle mounted lift plant with his junior ministers Franck Riester, who is responsible for exports, and Alain Griset, who is responsible for small and medium size companies.The three toured the plant in Ferrières-en-Brie on the east side of Paris at the end of September and watched chief executive Julien Bourrellis demonstrate a van mounted platform before holding a press conference announcing their recovery plans and support for exports. A video of the visit, which shows off the factory, can be seen here.
November 2020 – CPL teams up with Rivus
UK aerial lift distributor and installer CPL – part of the Klubb group – has agreed a service partnership with Rivus Fleet Solutions. Rivus will provide servicing, maintenance, repair and testing for the range of van and truck mounted platforms sold by CPL from 55 locations throughout the UK. Each location will also be supplied with CPL diagnostic and tooling equipment, as well as have access to parts to carry out both warranty and non-warranty work.