What are your quality processes?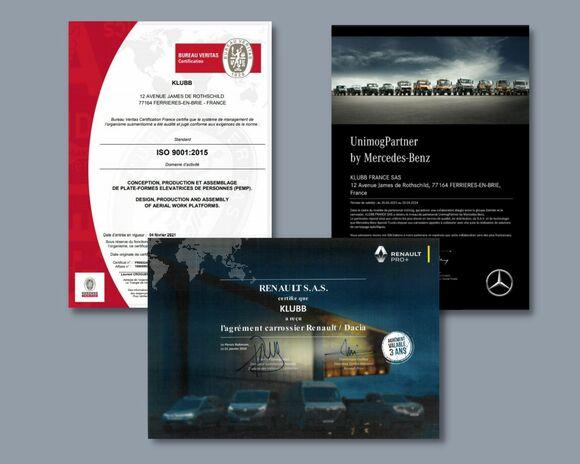 Quality Management for controlled processes and continuous improvement
KLUBB has been ISO 9001 (2008) certified for having demonstrated its strong customer orientation, its commitment to the implementation of quality processes and its ability to implement continuous improvement methods at all levels of the company, from ordering the platform on the vehicle of your choice, to delivery.
A team dedicated to quality
Quality is above all the mark of a team passionate about its profession. Each person involved in the assembly process performs self-checks based on standard checklists to verify their work during production. Once the platform on a carrier is finalised, a team of inspectors checks all the equipment and ensures that the machine is working properly, before going through the technical tests carried out by an external company.
An external control body for risk control.
We call on a third-party organisation, which specialises in risk management, to verify that the commissioning of our aerial work platforms conforms to specifications. The company performs several static and dynamic tests on all our products leaving the factory to verify that each platform placed on the market is a safe and efficient tool for our customers.
Regular audits from our vehicle manufacturer partners
The quality and safety of bodywork carried out by Klubb is audited at least once a year by our car constructor partners such as Mercedes, Renault, Stellantis ... As an approved bodybuilder, we have priority access to the technical reference system of our partners, and we have regular exchanges with their teams to ensure that our transformations on their carriers comply with the directives. This joint work is an additional guarantee of quality for our customers.
Once the lifting platforms are in operation on site, we study each after-sales service return in collaboration with our dealers. The feedback is used to constantly improve the products for ever more safety and comfort for our users.
Quality is a daily and continuous commitment which is at the heart of our business strategy.