Are you able to build a Renault Master aerial platform up to the latest standards?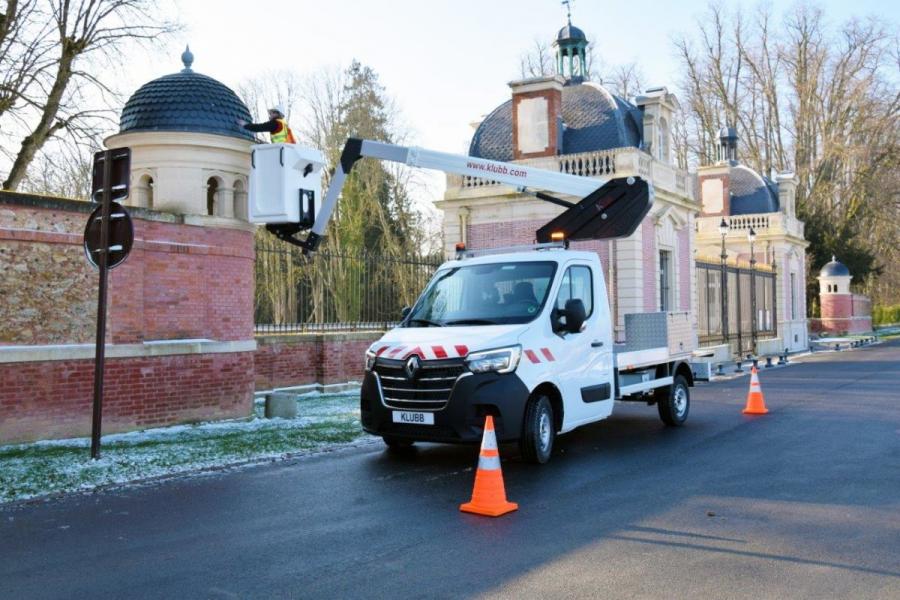 Aerial platform on a Renault Master or on a Renault Trafic
A strong collaboration between the Klubb and Renault teams is the result of many years of collaboration. The Klubb Group company has been Renault bodybuilder certified since the launch of this program by the French car manufacturer. The Klubb conversions such as the Renault Master aerial platform that come with this certification are guaranteed to be updated with all the latest innovations.
This long-term partnership has already proven its worth in the past. To date more than 10 000 aerial platforms on a Renault Master have been produced and distributed around the world in 20 Years. It's not about to stop, in particular with the launch of the new Klubb range known as «light». This range includes Renault Master aerial platforms and Trafic van mounts. These models are specially designed for company such as telecoms, public lighting, roads professional. More broadly for all businesses with storage constraints.
Among the models in this range, the KL32 on a Renault master is already considered as an European best-seller in the telecommunications sector. Its optimization allows an additional payload of 140kg while maintaining the best technical performance on the market. This aerial lift mounts on van has a telescopic arm which reaches a working height of 12.50m and a horizontal offset of 7.30m, without outriggers. In addition, the KL32 Renault Master aerial platform benefits from a large loading capacity. That can transformed the vehicle into a real mobile workshop if needed. It is then possible to work indoors, comfortably even during field intervention. Furthermore, your equipment is kept safely stored in your locked van.
The KL26 on a cutaway Renault Master, another model in the « light » range is ideal for professionals requiring a minimum footprint. Its telescopic arm allowing you to reach up to 11.80m high and 6.80m offset. It has been lightened to gain 160kg of payload. Despite its truncation, entirely realized in France, this model is a real workshop van. Very practical for all companies which need to transport equipment in order to intervene efficiently on sites. Even in difficult parking or restricted workspace.
To reduce your carbon footprint, it is possible to add the option Green Pack, available on each Klubb models. This system allow to work engine off. This option is ideal for all companies and local authorities engaged in an eco-responsible approach but do not wish to compromise on technical performance.
During the nacelle product design, Klubb an Renault worked together in order to design van mounts, fully compliant with the new WLTP standard. This new European norm, Worldwide harmonized Light vehicle Test Procedure (WLTP), allows to measure both fuel consumption and CO2 emissions emitted by the vehicle. The CO2 emissions measured in WLTP are 24% to 31% higher than with the previous standard.
To meet international needs Klubb also design upper structure kits. Those kits are meant to be assembled by our dealers' network worldwide. The successful work with Renault is just one example. We are also working great with many other car manufacturers such as Mercedes, Iveco, Ford, Stellantis, Volkswagen and others…
Dedicated to standardize upper structure kits, and adapt them to international needs, Klubb designs its to be mounted on all existing vehicles to fit with the needs of all different countries.