KLUBB IS INVOLVED: DISCOVER OUR AERIAL PLATFORMS ON ELECTRIC VEHICLES!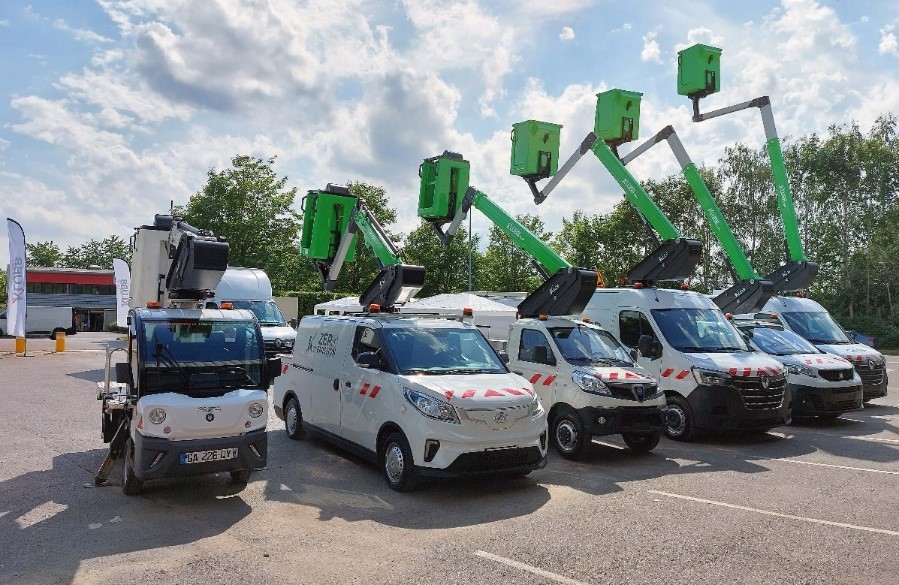 Climate change, increasing prices of fuels, taxes and restrictions in some areas... There are more and more arguments in favor of electric vehicles. Klubb is committed to its customers who, like us, are working towards an eco-responsible approach by developing platforms on clean 100% electric vehicles.
These models are perfect for working in the city, especially in pedestrian areas or in industrial sites indoors. These aerial work platforms do not emit pollutants into the atmosphere when they are in operation or when the basket is running. Silent, they are an undeniable asset for local residents.
However, make sure you have the ability to connect to a charging station on a regular basis, or that your work area does not exceed 200 km per day before you opt for an electric vehicle. If you are not sure of your choice, we invite you to read the article "3 green solutions for working at heights: 100% electric, natural gas and bi-fuel. How to choose?".
Our electrical range
The K20 on Maxus E-Deliver 3
The very compact Klubb K20 electric aerial platform on Maxus e-Deliver 3 can be used in the most tightly confined areas, both indoors and outdoors: underground parking, pedestrian streets, hangars, etc. This aerial platform is a real asset for companies that install and maintain video surveillance cameras and for local authorities.
The K20 on Goupil G4
The K20 on Goupil G4 is the most compact telescopic boom lift in our range of chassis elevators. With an autonomy of 70km, it is particularly suitable for all cleaning companies, public lighting or maintenance of green spaces and of course, for local authorities.
The K20L on a Cutaway Peugeot E-Expert
With an autonomy of 330 km on the road thanks to its XL battery, this aerial work platform is also capable of 32 work cycles. Its cutaway shape allows it to be compact enough to easily adapt to urban environments.
The KL21B on E-Expert
The most powerful electric van, it allows a working height of 11.40 meters and 6.40 meters of offset. This van allows to work in restricted spaces while keeping a storage capacity and a payload adequate to transport tools and material. This aerial work platform is ideal for construction companies, telecommunication, video surveillance or network companies that want to reduce their carbon footprint.
The KL26 on Renault Master E-Tech
This electric aerial work platform model is characterized by an exceptional loading capacity in this segment and a compact size, well adapted to the urban environment. With a working height of 11.80 m and an offset of 6.80 m, the KL26 aerial work platform is mounted on a truncated Master E-Tech in order to combine performance in working at height with ease of use.
The KL38P on the Renault Master E-Tech
The first aerial work platform mounted on a Renault 100% electric vehicle to reach a height of 14 meters: the 100% Green KL38P is already attracting many players in the energy and urban infrastructure markets (public lighting, networks, etc.). This aerial work platform is lighter than its previous versions, allowing it to compensate for the increased weight of the 100% electric carrier while retaining its payload.
Any questions about our 100% electric models? Our team of experts will answer you as soon as possible!