The GELEV Group inaugurates its new KLUBB aerial work platforms plant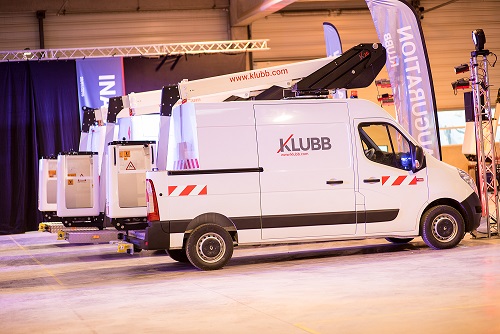 On Thursday 28 January 2016, KLUBB, a subsidiary of the GELEV Group, opened its new plant. The site has the potential to manufacture over 1000 aerial work platforms every year. More than 200 major companies from the working at height sector attended the event.
GELEV is a multi-specialist bodywork company offering tailored transformations of commercial vehicles dedicated to increasingly specific applications. With a turnover of more than €40m and over 150 employees, the GELEV Group is a European leader in the aerial work platforms market.
KLUBB S.A.S is the new subsidiary of the GELEV Group, designing and manufacturing KLUBB aerial work platforms, which are designed to be van-mounted. On 28 January, KLUBB opened its new plant, with a surface area of 20,000m2.
This site will be capable of manufacturing 1000 KLUBB platforms every year from the first year, designed for a number of different professions and applications
(EDF, telecommunications, and grid sub-contractors, urban billboard and street furniture work, local authorities, etc.). The first three models from the new KLUBB range are already available and were introduced to the large number of the Group's clients who attended the opening ceremony.
The first, the K32, is a one-person platform without outriggers, with a working height of 12.50 m on a 3.5-tonne van. The K26 reaches a working height of 11.80 m and a lateral outreach of 6.80 m, and has been designed to be mounted on a short wheel-base or cutaway chassis van. Finally, the K21 – the latest model – is mounted on a 2.8-tonne Renault Trafic, and reaches a working height of 9.20 m with an offset of 5.80 m. Two further models will be announced for the Bauma show, which will be held in Munich in April.
"Our philosophy is simple," said Julien Bourrellis, President of the GELEV Group. "We are focusing on the van-mounted aerial platform market in order to develop products that are the perfect match for our clients' needs and to offer them the best service, both before and after sale. Our aim is to become the European leader in the sector."
"Opening our new plant today is a moment of cooperation with our clients, because it is thanks to them above all that this next generation of platforms has been created.
They are the result of constantly listening to our clients, allowing us to develop products that are perfectly suited to all kinds of work at height.
We are extremely proud to be able to present the fruits of this work," added Mr Bourrellis. International expansion is one of the key strategic aspects of the launch of the KLUBB range. The Group is actively looking for distributors in other European countries. Details of several partnership agreements will be announced in the near future.