Power Grids International Forum, Moscow – Russia (3/12/2019-6/12/2019)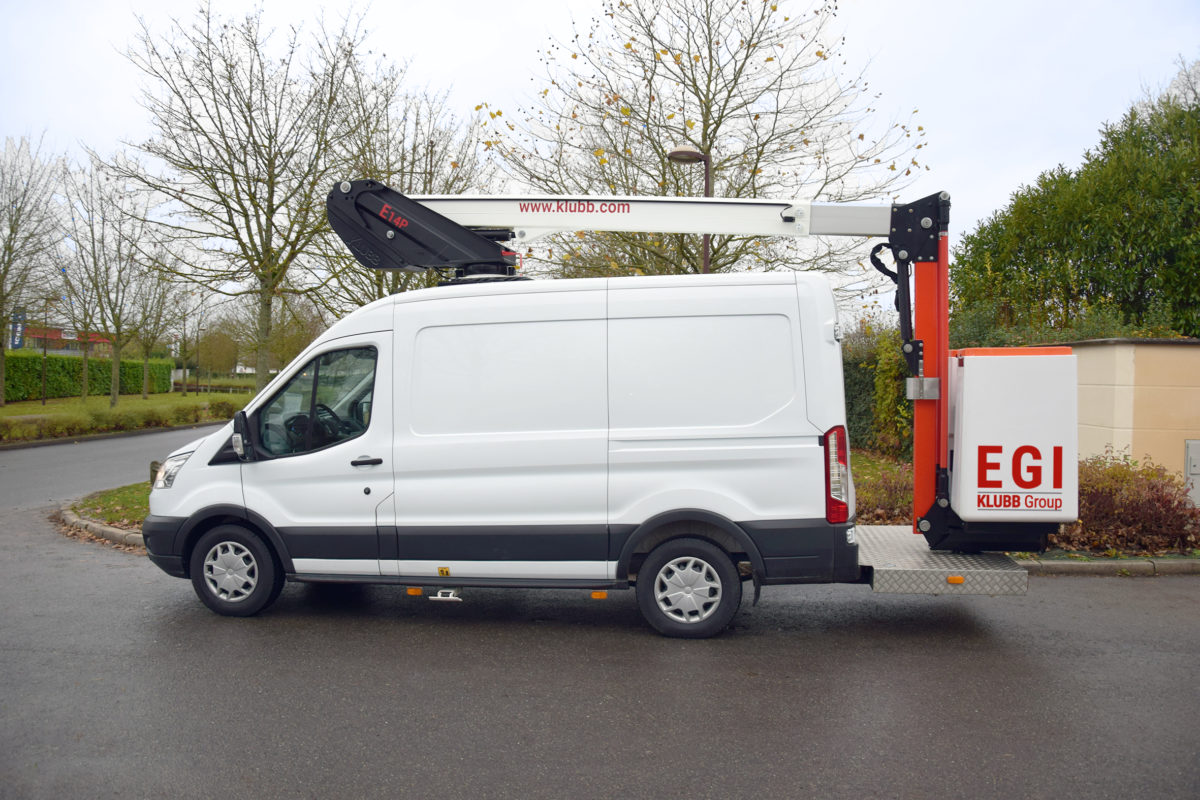 EGI-Klubb Group presents the first model from its fully redesigned range of insulated lifts for vehicle mounts in Russia
EGI-KLUBB Group is proud to announce the launch of the first model from its fully redesigned range of insulated lifts for vehicle mounts. The platforms mounted on vans, chassis' and heavy trucks are providing working heights from 10 to 65m.
These models combine the best of EGI and Klubb's technical know-how.
Our Russian partner
SAFE TECHNOLOGY
is currently exhibiting the E14P on a Ford Transit at the show "
Power Grids International Forum
" in Russia.
The main goal of the event communicated by the forum is to unite the efforts of leading industry professionals to create a digital grid infrastructure. Also, it is a ground for demonstrating the latest developments and technological solutions in the field of electrical power. Therefore, we are glad to take this opportunity to introduce our innovative insulated lifts for van mounts there! Last year, 2018, the show counted a total of 402 exhibitors from 27 world countries. All of them are manufacturers of high technology equipment. Moreover, their products visited by 15,000 people, 330 experts and 130 media reporters. Furthermore, a lot of discussions about new solutions and products in the field of electric power will take place. As a result, it offers once again the perfect surroundings for our launch!
However, to not put you on the track even longer, EGI's insulated lift for vehicle mounts model E14P is reaching a working height of 14m.
For providing flexibility we equipped the insulated lift mounted on Ford Transit with an articulated jib.
But certainly, the insulation bristles with power lines up to 46kV in compliance with ANSI 92.2 standard cat. b and c. We designed it for operations carried out according to the ANSI recognised live working method: "hot stick" (safe clearance). This model fulfills utilities' expectations to provide continuous power during maintenance or construction on their distribution grid. All in all, the boom lift E14P is part of a quadripartite series for insulated lifts for vehicle mounts. KLUBB Group announced the acquisition of EGI by KLUBB Group in the summer of 2018. Nowadays, EGI-KLUBB Group continues to produce its flagship products as well as the platforms on trucks from the Group.
Of course, this would not be possible without partnerships for example with SAFE TECHNOLOGY.
Although, the Russian company has been our distributor for just a few months now, they are already commanding a second order of KLUBB's vehicle mounted platforms. This shows that
our products are very well received in Russia
.
If you need more information about our new range of insulated lifts, you can visit SAFE TECHNOLOGY until Friday. EGI KLUBB Group's sales manager and KLUBB Group's CEO is also on-site. You'll find SAFE TECHNOLOGY and us at the stand number B61 on the trade show "Power Grids International Forum".
Of course, you can also CONTACT US or EGI-KLUBB Group any time for your demands and requests!