Our distributor SAFE TECHNOLOGY exhibited KLUBB Group's boom lifts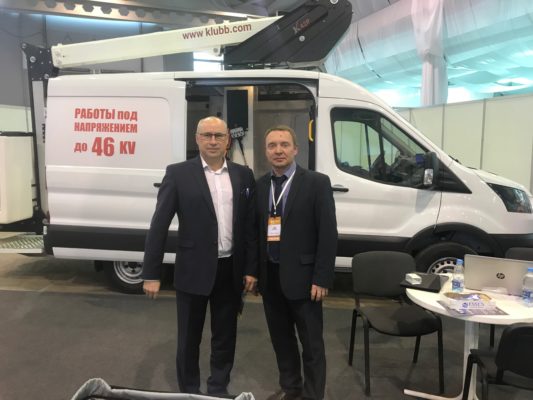 ENERGY fair in Russia: Thank you for your visit!
SAFE TECHNOLOGY
, our distributor in Russia, exhibited successfully KLUBB Group's boom lifts like the
K42P mounted on a Ford Transit L2H2
at the trade fair "
ENERGY 2020"
from the
18th to 20th of February in Samara, Russia
. Over
2500 delegates
visited the show. The exhibition is a large diversified project of the Volga region. The aim is to organize effective interaction between representatives of business, government and science with the goal of concluding new partnership agreements, receiving orders and contracts.
Therewith, it builds a great base for showing KLUBB Group's innovative boom lifts.
In general, all energy companies situated in the Samara Province were showing a big interest. Especially, the
K42P
which is built on a Ford Transit
caught attention. The aerial work platform shows a great
working height of 15m
while providing a
lateral outreach of 8.20m
. Also, this platform supports you with an outstanding flexibility thanks to its jib.
The visitors of our dealer SAFE TECHNOLOGY had the opportunity to attend demonstrations of the aerial work access platform and while going up in heights, this clever solution for
maintenance work and street lightening
persuaded all of them.
All in all, it was a great success! Congratulations to our partner for selling two K42P lifts mounted on vehicles during the trade fair!
Furthermore, the
EGI-KLUBB Group
insulated model
E14P
attracted a lot of interest. The combination of the compacity of the van with aerial work access platform and the possibility of working under high voltage circumstances, attracted a lot of attention of the innovation of EGI-KLUBB Group. Also, the E14P is the first vehicle of the
renewed range of insulated aerial work platforms from 10 to 67m.
The aerial work platform mounted on a Ford Transit with an articulated jib, is reaching 14m working height and 7.50m lateral outreach. This platform is insulated up to 46kV in compliance with
ANSI 92.2 standard cat. B and C
. We designed it for operations carried out to the live working method named "hot stick" (safe clearance). Finally, there were also some big enterprises which were interested in smaller boom lifts. For example, they showed a lot of interest in the
K21B and K26
which have a smaller working height. The work platforms mounted on the Russian UAZ Profi chassis are perfectly fitting for maintenance work and repair work in their factory territories.