Kraan & Truck Service B.V. becomes the dealer of the KLUBB platforms in Netherlands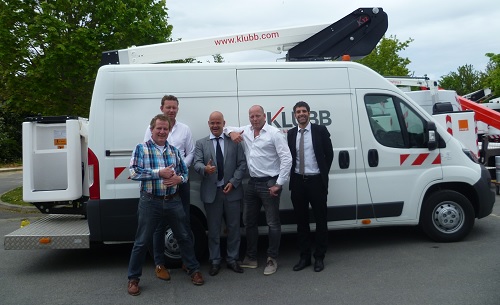 KLUBB, designer and manufacturer of KLUBB aerial platforms, is pleased to announce that Kraan & Truck Service B.V. (KTS), the number one for Truck mounted Access Platforms in Netherlands, has been appointed as the dealer for KLUBB platforms in that territory. Established since 1993, KTS sells, maintains and repairs industrial cranes and aerial lifts.
KTS will distribute the entire range of KLUBB products in Netherlands and handle after-sales service and support in the country. The current KLUBB range initially consists of five platforms, with working heights ranging from 9 metres to 15 metres. The range is compatible with most van types and models. All platforms can be operated with the van engine turned off using KLUBB's Green Pack technology, which saves fuel and protects the environment.
"We truly believe KTS will offer outstanding levels of service in Netherlands. They are experienced in selling van mounted platforms and they share with us the same values of professionalism, reliability and a passion for customer service." said
Julien Bourrellis, President of KLUBB.
"We feel this innovative range of van mounts will complement our existing products and will take us to the next level in the market. We see tremendous synergy in this working partnership."
said Jan van den Berg, owner of KTS.
"We are also proud to announce that VSVK Infra Techniek has become the first customer for the new KLUBB van-mounted boom lifts in Netherland." Added Jan van den Berg. VSVK Infra Techniek focuses as a subcontractor on infrastructural projects. They have purchased a
14 m K38P
and a
12 m K32
in order to complete projects such as signage, public lighting and the installation of traffic control systems. "We are delighted to be the first customer for the new KLUBB machines. We feel that van-mounted platforms are great products because they offer the possibility to combine the use of the van as a mobile workshop and the use of the platform in order to work at height. We have been impressed by the performances of the KLUBB products." Added
Peter Van Kester, Managing Director of VSVK Infra Techniek.