Klubb will be at the Matelec show in Madrid (Spain) from November 13th to 16th stand #5D17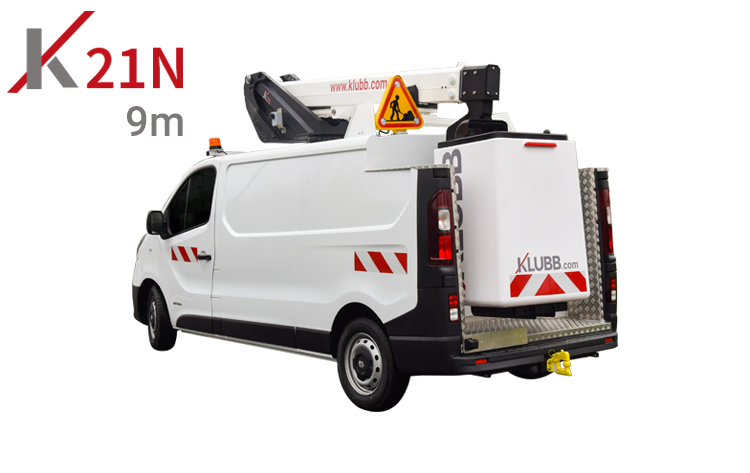 For this years Matelec show, which will take place from November 13th to 16th in Madrid (Spain), Klubb will be delighted to welcome you to its stand 5D17 to present a selection of aerial work platform models for all companies working at height.
Aerial platform K20 on Renault Kangoo van
Thanks to its latest aluminum mast, the Klubb K20 is designed to be mounted on a very small vehicles. The Renault Kangoo is the perfect example thanks to its small size. Today, the Kangoo-mounted K20 is the world's most compact van with a working height of 9.8m (32'2 ") and a working outreach of 4.8m (15'9"). The K20 on Kangoo is intended for urban applications and particularly for telecommunications, CCTV installation and road or signal lighting maintenance.
Aerial platform K21N on cutaway van This van lift has a 1 person basket capacity and designed without outriggers. This platform can be installed on all van models. It is very compact and allows operation in small spaces. It has a working height of 9,2m and a lateral outreach of 5,8m.
Aerial platform K32 on van
The iconic model of the KLUBB range, this platform mounted on 3.5T van currently has the best performance on the European market of van mounted aerial platform with a working height of 12.5m and a lateral outreach of 7.3m. This conversion has been designed without outriggers. This van can also be designed with storage to stock your equipment. It is ideal for different applications: Telecom companies, public lighting, fair ground lighting ...
The entire range of KLUBB aerial platforms can be equipped with the "Green Pack" option which allows operation eith the van engine switched off. On the show, the K20 on Kangoo and K21N will be equipped with this device.
In order to guarantee the highest quality, our vans manufacturing processes are certified by the leading manufacturers such as Renault, Mercedes Benz and PSA.
If you have any questions or would like an invitation, contact us