Klubb says yes to eco-responsible components!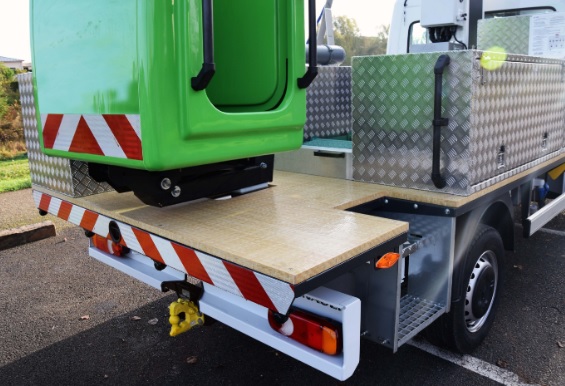 Klubb, which have done of innovation one of its development pillars, presents on Bauma the 1st carrier mounted aerial platform which integrates eco-responsible components : the goal is to replace step-by-step aluminum and steel, that are very energy-intensive, by new materials. Research on the development of new eco-responsible materials is one of the main activities of our R&D department.
On this vehicle, a KL26 mounted on a chassis Renault Master, aluminum which traditionally composes the decking has been replaced by a decking made with fibers of bamboo, balsa and other biobased composites. With many advantages!
The main one is the production of a more eco-friendly carrier mounted aerial platform, with the use of renewable materials whom production absorbs CO² rather than emits it : absorption of 2 tons of CO², when the production of a ton of aluminum emits 21,8 tons of CO².
The use of the different components provides better mechanical resistance than aluminum to the decking et offers better payload, with a gain of 20kg.
Finally, the top layer made with bamboo is non-slip and offers a better resistance to bad weather conditions.
In addition to those advantages, Klubb has replaced, on this machine, the traditional hydraulic oil by a biodegradable one.
The first vehicles will be delivered with aerial platforms equipped with the Green Pack technology. Thanks to their independent battery, they can be used with vehicle engine turned off, for a significant fuel savings and a reduction of CO² emissions.