3 green solutions for working at height: 100% electric, hybrid, natural gas, how to choose?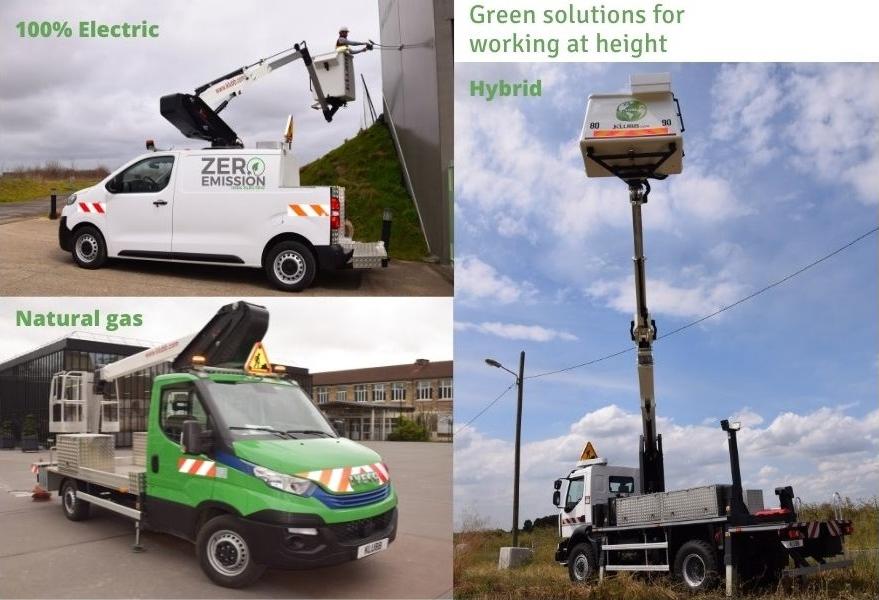 Platform on a 100% electric vehicle
1- You work in an urban environment, in confined spaces and your area of intervention does not exceed 200km per day or you have the possibility of connecting to a terminal regularly
2- You are required to work indoors and outdoors with your lifting platform
In these cases, 100% electric is perfect for you!
These carrier platforms do not release pollutants into the atmosphere when in motion or when working at height. They are also almost silent, which is a real plus for residents.
The 100% electric models are perfect for working in the city, especially in pedestrian areas or in industrial sites.


Platform on a natural gas vehicle

This type of lift has many advantages:
- Load capacity equal to the diesel version
- Fuel savings of up to 35%
- 4 dB quieter compared to the diesel version
- No AdBlue®
It is therefore an excellent way to reduce your energy consumption without compromising on autonomy.
The only constraint is to be near a station that supplies natural gas because this fuel is not yet distributed everywhere.


Electric lplatform on a diesel vehicle: the hybrid option

You do not find yourself in the two previous options? in this case, you can still equip yourself with an electrically operated aerial work platform on a diesel vehicle.
Of course, the vehicle remains polluting during trips, but you can work at height with the carrier's engine off. You thus reduce your fuel consumption as well as pollution during your interventions. In addition, this makes it possible to limit noise pollution for residents.
This option applies to all types of carriers: vans, light vehicles or heavy goods vehicles.