Multipurpose Aerial platform K32 on the road in Uruguay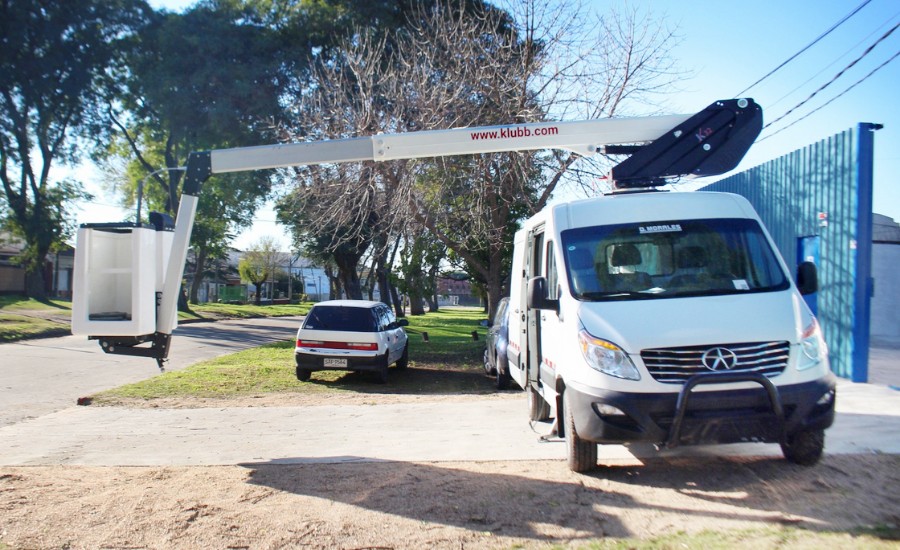 Our long time dealer, Manger in Uruguay has just released its latest K32 aerial platform mounted on a JAC Sunray van. This multipurpose vehicle allow the operator access to all types of work areas, even those that are difficult to approach.
Manger, Uruguayan company, which has found in Klubb a modern and dynamic partner able to adapt to the new demands in its country, has been part of our network since 2017. This family business with long experience in hydraulic equipment assembles Klubb high structures on all types of vehicles. The company is looking to the future and is constantly innovating, so it was natural that they should be interested in van even if culturally in South America it is the aerial work platform on chassis that are the most common.
For its customer specialised in telecommunication/CCTV, Manger has mounted a K32 platform on a Chinese chassis, the Jac Sunrise. Very popular in Urguay, converted into an aerial work platform the vehicle reaches a working height of 12.50 m and an offset of 7.30 m. The spacious van also offers the possibility of working as a duo as it is equipped with a 2 man basket.
But the main advantage of this vehicle ideal for applications such as electrical maintenance, signalling, fibre optics or CCTV. remains the van caractéristics. As all the work platforms it off corse allows an approach to the work area without difficulties, avoiding obstacles and avoiding traffic blockages due to its telescopic extension. But it is the van installation that makes the vehicle so special.
A 4-in-1 platform which will not only take you to new heights, but will also allow you to store your equipment in a lockable space. You can use this space as a workshop during your interventions while conveying your identity on the road by sticking your vehicle with the name of your company and/or your graphic identity as well as all the communication you wish.
It is also important to specify some technical characteristics of the K32 model. Its aluminium arm offer you a lighter weight, which increases the vehicle's payload and increases its resistance. The hydraulic and electric cabling is present in the arm and this also improves the longevity of the platform but above all facilitates the maintenance of the equipment. There is no need to grease it and, in case of wear, only the Teflon screws need to be replaced.
Manger's customer particularly appreciates the robustness of the product but also the storage space that the van configuration provides. He can now easily store his tools as well as traffic cones, which are essential during interventions. The last positive point of the product is the possibility of working with engine switch off thanks to the "Green Pack" option, which, in addition to being environmentally responsible, makes it possible to eradicate noise pollution when working in urban areas.
In the near future Manger would like to purchase a demonstration boom lift to make it easier to convey its customer that aerial platform can combine several applications in one vehicle.
We will continue to support Manger and its customers in the realisation of future projects in the lifting area.