10 great reasons to buy a van mounted aerial work platform!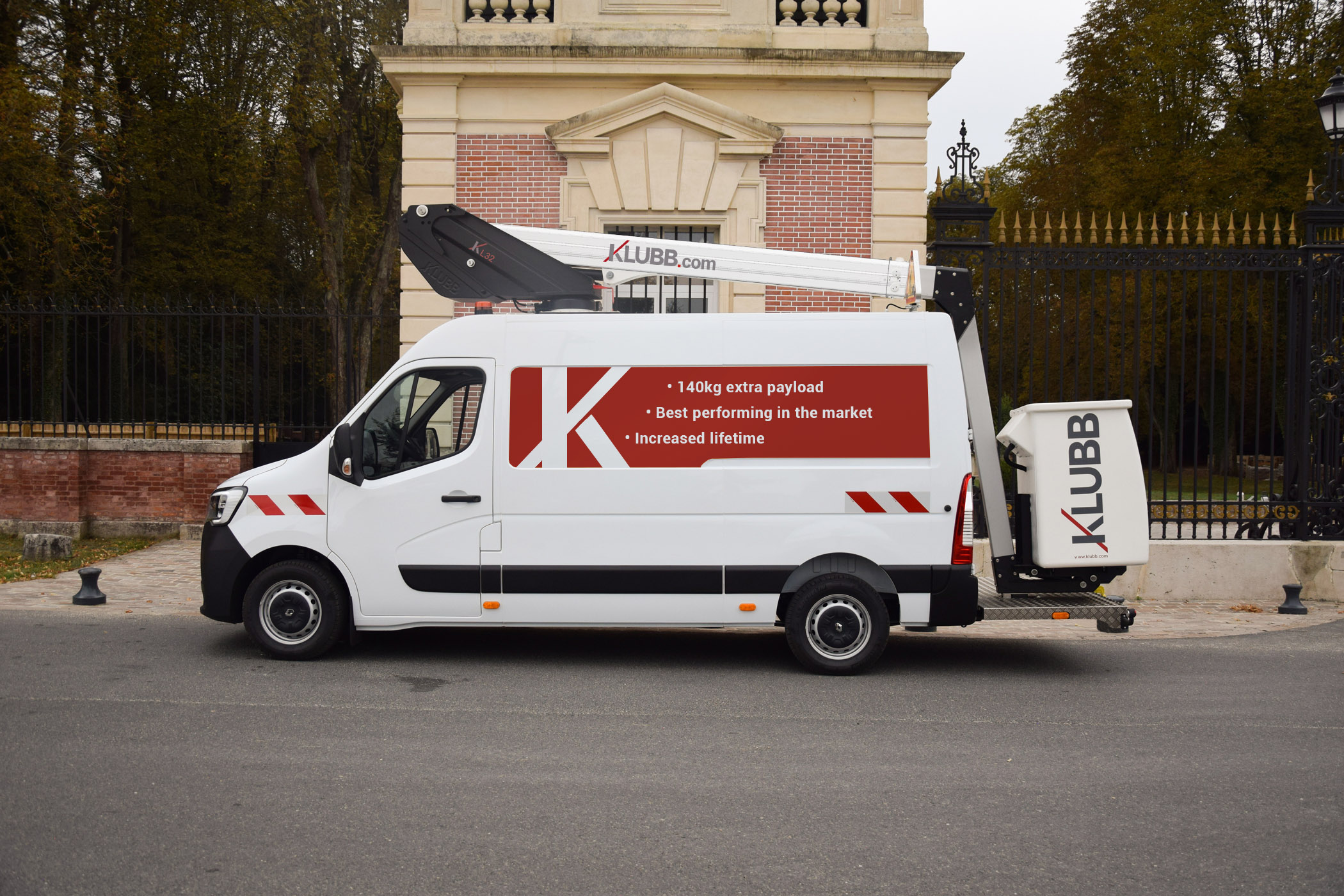 10 great reasons to buy a van mounted aerial work platform!
As a bodybuilder specialising in lifting for more than 20 years, Klubb quickly established itself in France, its country of origin and then in Europe thanks to its expertise in aerial work platforms on vans. Between maneuverability, large storage capacity and competitive price, we would like to share 10 specific qualities of this type of aerial work platform.
1- Undeniable compactness
With an average length of 5.99m, the vans easily blend into urban areas. Designs without outriggers allow the platform to stay within the envelope of the base vehicle, it has never been so easy to park in town. You can now park your platform in a traditional car park space.
2- An easier drive
The majority of the van platforms are mounted on a 3.5t basde vehicle. This allows anyone with a standard licence to drive them. In addition, driving a compact van comes with no worries: no more overhang problems, easy crossing on small roads, maneuvers and parking possible everywhere. These are major daily benefits.
3- Optimal stability
Many of the Klubb van models no longer require outriggers. Indeed it is the wheels of the vehicles which act as points of contact with the ground and ensure the perfect stability of the vehicle. For you, this also means a significant time saving because for repetitive operations such as replacing lights on the road, there is no longer any need to take out and stow away the outriggers every 50 meters.
4- A large loading volume
Vans generally leave a comfortable loading margin, not so much in terms of available space but rather in terms of payload, which results from the difference between the curb weight and the total weight authorised in load (PTAC).
5- A robust construction
Like any vehicle, vans undergo serious mechanical stresses on the road. Their steel structure with numerous reinforcements gives them excellent strength and will be reliable on all your interventions for many years.
6- A modular environment
We offer light weight racking and shelving options for the rear space of the vans. This allows you to adapt them to the equipment you need to store and thus organise your space according to your activity. Mobitec, a subsidiary of the Klubb Group and specialist in vehicle fitting, is available to meet your needs.
7- An advertising tool that gives you visibility
You want to make yourself known? Here again, the bucket van is your ally, don't hesitate to use your van mount as a moving advertisement for your business with custom vinyl signage and full wraps.
Many companies have already understood this and some operational management clients spend up to 15% of the aerial platform budget on marketing, by implementing a real communication strategy to their fleet of aerial platforms.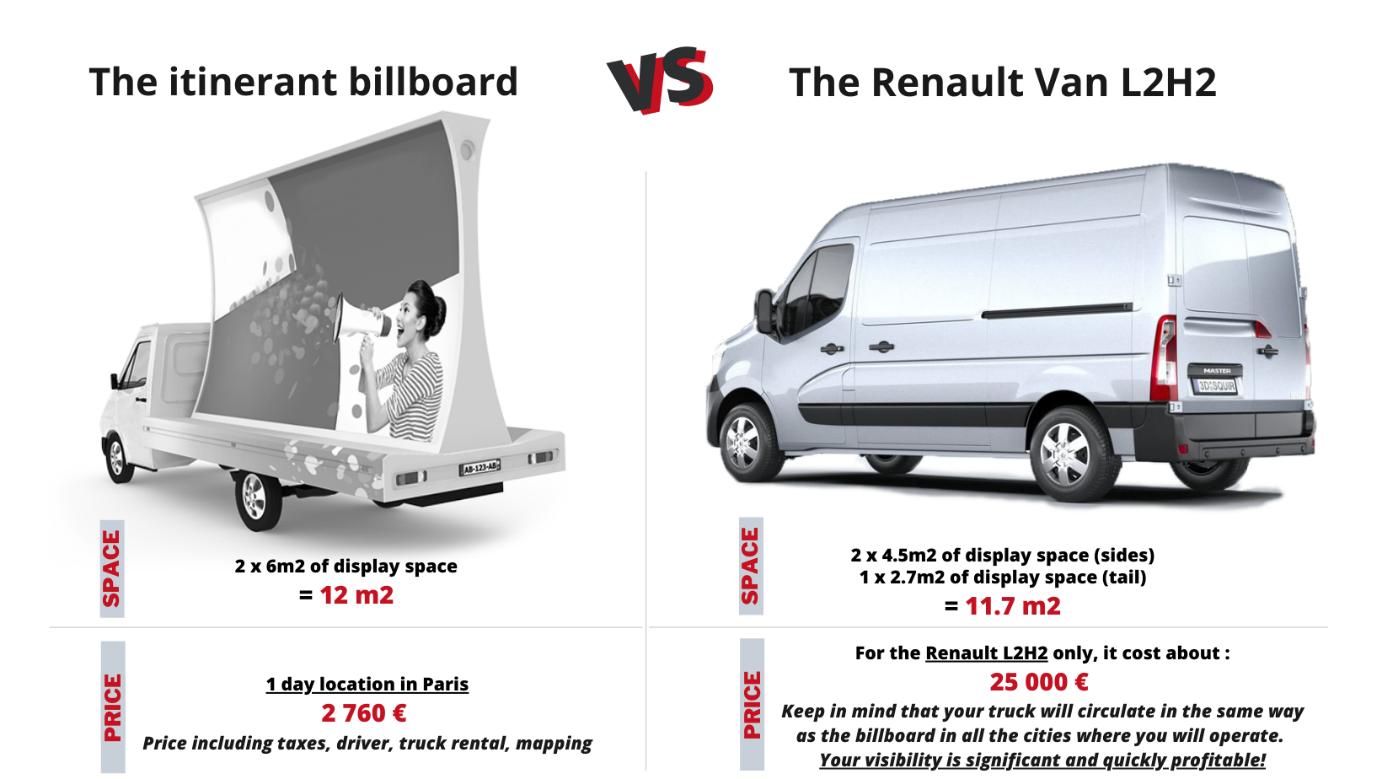 8- A very wide choice of models
The Klubb Group is a certified bodybuilder from many car manufacturers around the world. This certification is subject to technical audits which impose strict bodywork rules and perfect knowledge of the vehicles. This means we can mount platforms on all carrier brands around the world: Peugeot, Renault, Tata, Mercedes, Brilliance Jinbei, Volkswagen, Man, Iveco, Nissan, Ford, Maxus…
9- Tailor-made solutions
In addition to the standard models, you have the possibility of adding options to your van-mounted platform. The most popular option at the moment is adding the Green Pack to your vehicle. This allows you to operate the boom on a bettery while the diesel engine is switched off. This saves fuel while being eco-responsible!
10- A device for your work at height
And finally, the 10th and main feature for your platform, the lifting arm. This allows you to work at height and get to hard to reach areas in complete safety.